19 Jul 2016
LibreOffice developer interview: Winfried Donkers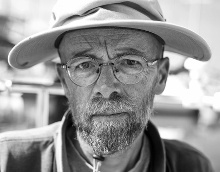 In this week's developer interview, we talk to Winfried Donkers, a Dutch coder who has been using LibreOffice (and its predecessors) for almost two decades, and today works on Calc.
Where are you based, and do you work for a LibreOffice-related company or just code in your spare time?
I live in the Netherlands, in a small village in Zeeland, near the North Sea. My work is within cycling distance – I don't drive cars any more. I contribute mostly in my spare time, but if people or companies want me to fix a bug in my 'area of expertise' I will spend some company time. The company I work for uses LibreOffice.
How did you get involved with LibreOffice?
I first used StarOffice in the 1990s, but that was just a short fling. I used OpenOffice.org since version 1.1, and the company I worked for at that time switched to OpenOffice.org somewhere between 2000 and 2002. The company I work for now used an old version of Microsoft Office and I managed to get the company to choose LibreOffice in October 2011 (I think). Around that time I personally chose to contribute to LibreOffice.
What areas of the code do you normally work on? Anything else you want to tackle?
I concentrate on Calc functions, both fixing bugs and adding new (missing) functions. I am happy with that; LibreOffice is quite complex and I would rather know one area well than many areas superficially. I am still learning a lot about Calc and its functions and I'm far from being an expert.
What is your vision for the future, or what would you most like to see improved in LibreOffice?
I would like LibreOffice to be one of the available, undisputed and fully-fledged office applications and not just a 'cheap' alternative to Microsoft Office. LibreOffice is much more than that. A better (more stable) Base would be welcome. I hardly use it because of hitches. But having said that, I cannot contribute to Base and the people working on Base are doing a great job, especially considering their limited time.
What do you do when you're not working on LibreOffice?
In my spare time when I am not working on LibreOffice I like to sail. My wife and I have a sailing boat and I sail with my wife as well as alone a lot. Also I like to work on our boat, 'restoring' as it is a classic boat.
Thanks Winfried! And to any other interested developers reading this: join our community and help to make LibreOffice even better.
No Responses