09 Nov 2022
LibreOffice ID at the Indonesian Linux Conference 2022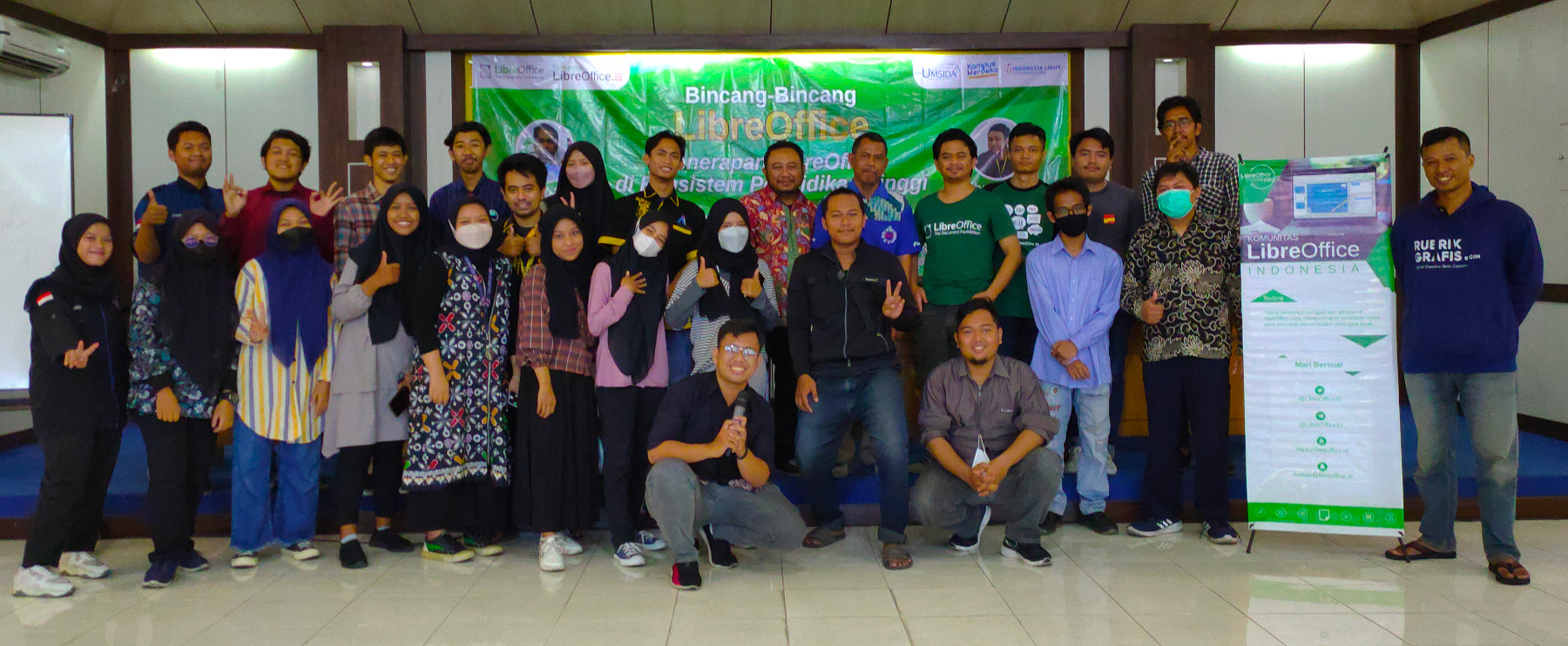 Great activities in the Indonesian LibreOffice community! They got in touch and gave us a quick summary:
---
LibreOffice's Indonesian community collaborated with the Organizing Committee of the Indonesia Linux Conference 2022, to hold a short presentation, "Implementation of LibreOffice in the Ecosystem at a University".
This event was held on Friday, November 4, 2022 in the 2nd Campus Hall of Universitas Muhammadiyah Sidoarjo, Surabaya – and at the same time became a pre-event running up to the Indonesian Linux Conference 2022, which was held on November 5, 2022.
Rania Amina, leader of the Indonesia Linux Conference committee, who is also an official member of The Document Foundation, said that the LibreOffice presentation was a request from the campus community, which felt the need to introduce a powerful open source office application that has active support from the community in Indonesia.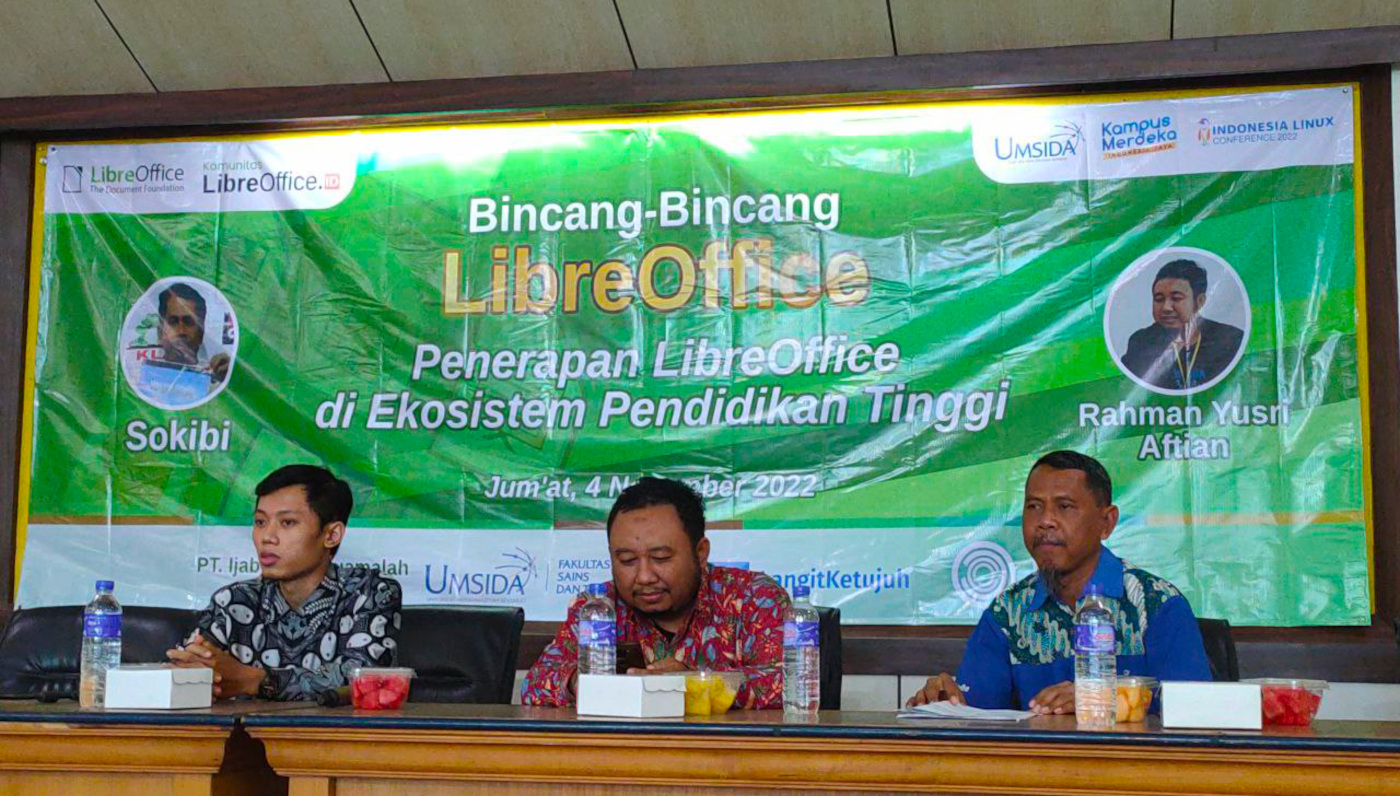 Sokibi and Rahman Yusri Aftian (Aftian) were the speakers in this talk. Sokibi explained in a straightforward manner what LibreOffice is, comprehensive with its development history until now. Aftian presented material about using LibreOffice to write Pegon script, one of the local manuscripts, for campus scientific research.
The participants who attended were very enthusiastic about what was presented.
Apart from information about talks, at the Indonesia Linux Conference 2022 there were also two topics about LibreOffice presented by Nawinda (Lecturer at Budi Luhur University Jakarta) and Adrian Saputra (Student oat Nurul Fikri). Nawindah shared her experiences about teaching LibreOffice Base on her campus for the purposes of recording transactions and so forth. Meanwhile, Adrian brought up the topic of data visualization with LibreOffice.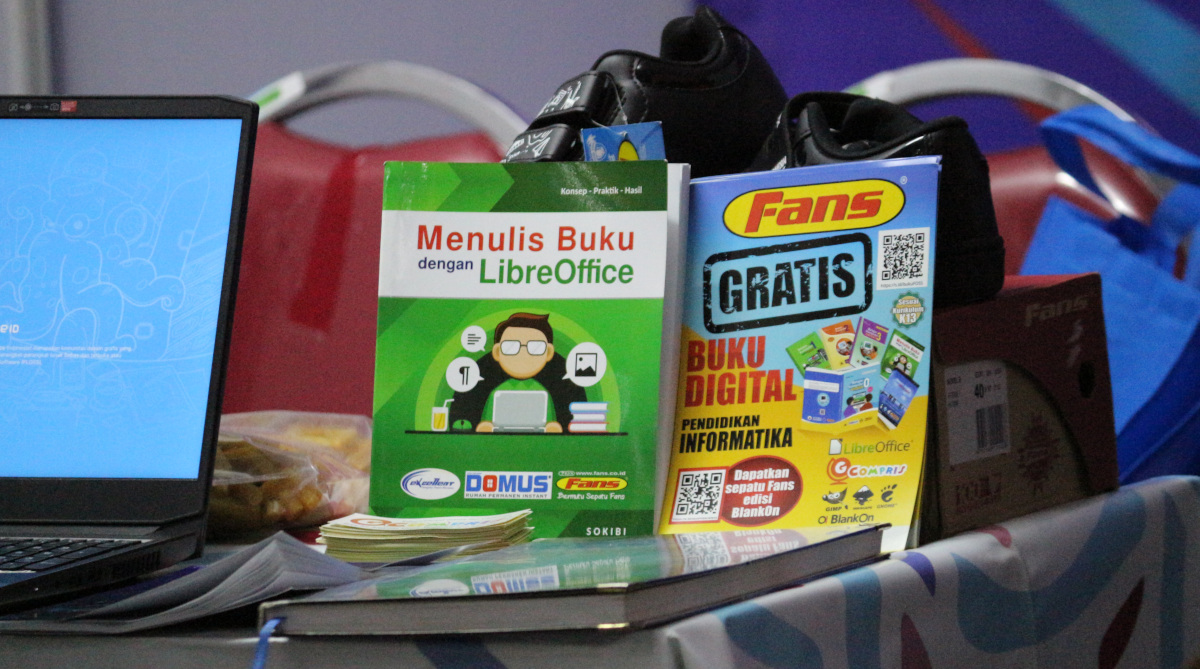 At the Indonesian Linux Conference 2022, LibreOffice Indonesia received a booth slot with GimpScape ID and Shoes Fans to showcase and share about LibreOffice ID's community activities – and invite participants to participate actively in the open source world, especially LibreOffice, both in the local and global community as well.
---
Many thanks to Rania, and all the Indonesian community members, for helping to spread the word about LibreOffice and free software!
Comments