21 Jun 2021
Community Member Monday: Manuel Frassinetti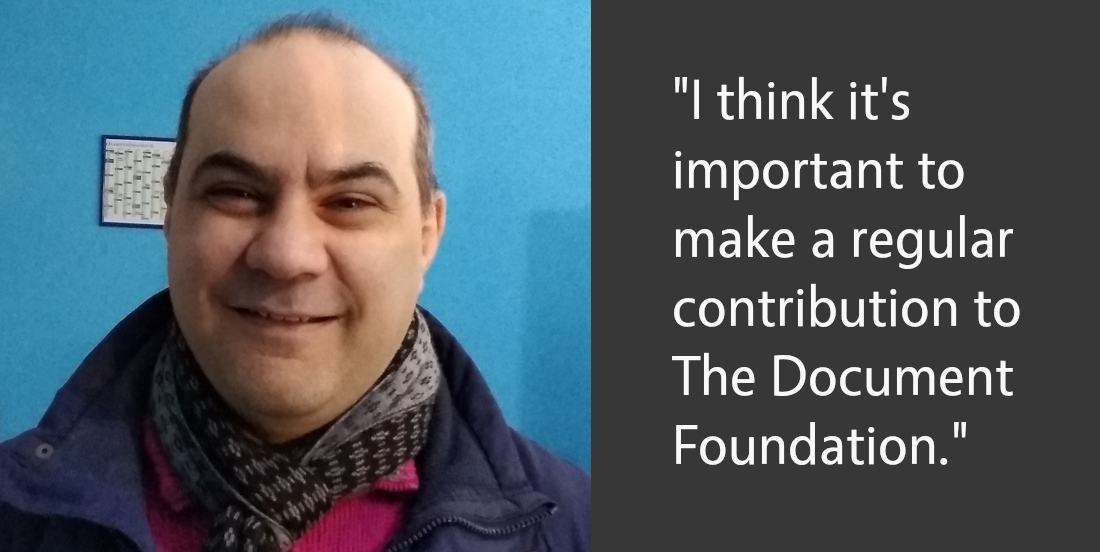 Today we're chatting with Manuel Frassinetti from our Italian LibreOffice community, who recently became a Member of The Document Foundation, the non-profit behind LibreOffice…
Tell us a bit about yourself!
I'm from Modena, Italy and I'm still living in this city. I'm just a normal free software user – a GNU/Linux user since 2001. I moved from Debian to Ubuntu, and then returned to Debian. The first love is never forgotten! 🙂
I use free and open source software and both in private and in my work. I have a Dell series 3500 laptop, an old IBM T42 ThinkPad in private and a HP Compaq 6000 pro at work, all with Debian 10. I am very much a beginner programmer (HTML, CSS, JavaScript) and also a beginner hardware technician. For both software and hardware specializations, I have not been in the world of work since 2003, since I became a tobacconist.
I don't like obscure software updates that last an eternity without knowing what is being updated.
What are you working on in the LibreOffice project right now?
Now I'm working on wiki pages: I translate from English to Italian.
Why did you decide to become a member of TDF?
I'm part of the Italian LibreOffice guides localization team, in particular for Base, and the wiki pages localization team from 2018. I become a TDF member in 2021 thanks to Italo Vignoli and Marina Latini. I think it's important to make a regular contribution to the TDF project: a little every day, it'll become a mountain one day.
Anything else you plan to do in the future?
In future, to live happy with my wife and to be healthy. About LibreOffice: I hope for better support in the database module. Right now I use Calc to do what I'd like to do with Base.
Many thanks to Manuel for his support and contributions. Everyone is welcome to discover what they can do for LibreOffice, build up skills and have fun!
Comments