13 Jul 2020
Community Member Monday: Khairul Aizat Kamarudzzaman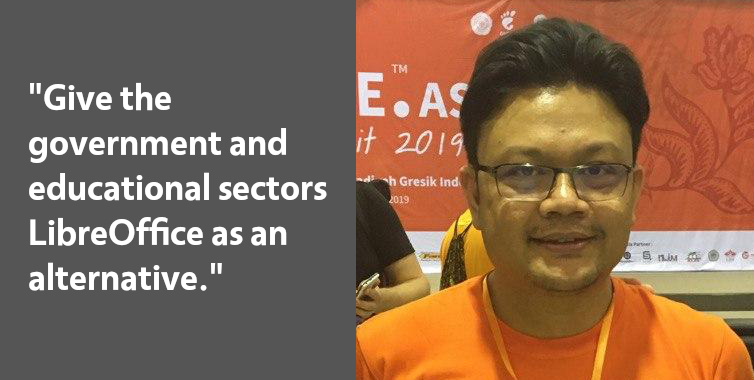 Today we're talking to Khairul Aizat Kamarudzzaman from our Malaysian community. He's a long-time fan of free and open source software, and is helping with LibreOffice advocacy and marketing…
To start off, tell us a bit about yourself!
I'm from Kuala Lumpur, Malaysia. I started exploring and using FOSS way back in 2004 (Debian, Red Hat, the BSD family and sticking with Ubuntu till today) when I was studying at the university. From there I started exploring and contributing to Ubuntu, which you can find here, and I was accepted to be an Ubuntu Member, Kubuntu Membes (merits as Ubuntu contributor). Finally I was appointed to be part of the Asia Oceania Membership Board.
A a FOSS community member, I work in a few IT companies in Malaysia and was one of the engineers working at Open Source Competency Centre (OSCC) under Malaysian Administrative Modernisation and Management Planning Unit (MAMPU). Now I own my own IT company, namely Informology Sdn Bhd. Not stopping there, I continue actively being a FOSS enthusiast in Malaysia. When the cloud computing era came, I was involved by leading Malaysia OpenStack User Group, and I've recently been exploring and leading the Endless OS user group for Malaysia.
What are you working on in the LibreOffice project right now?
I started the LibreOffice Malaysia Group on Facebook, and I'm planning with the group to finish the LibreOffice Malay translation as soon as possible, with guidance from the Indonesian LibreOffice translation team – so that we can have Malay language support in LibreOffice and Collabora Office.
Why did you decide to become a member of The Document Foundation?
It's in line with what I've done since I started using FOSS: open source advocacy targeted at students, teachers, government staff and the open Source community members in Malaysia. I especially focused on Linux, and office automation like LibreOffice and Collabora Office as an alternative to Microsoft Office. Then, last year in 2019, I managed to participate in the Gnome Asia Summit 2019 in Surabaya, Indonesia where I met a lot of FOSS enthusiasts who are advocating and spreading open source in Indonesia, along with a few awesome TDF members (Ahmad Haris), TDF Board member (Franklin Weng) and GNOME Foundation Staff.
So I asked myself… since I already pitching the Open Document Format (ODF) since I was in OSCC, why not start contributing more to LibreOffice by doing translations? So I challenged myself by applying to become a TDF member, with advice from Ahmad Haris and Franklin Weng.
Anything else you plan to do in the future?
Keep spreading and marketing LibreOffice in Malaysia – especially in the government and educational sectors. Give these sectors LibreOffice as an alternative, by not using piracy and a cracked version of Microsoft Office.
Maybe the LibreOffice Malaysia group can suggest to TDF to host the LibreOffice Conference in Malaysia one day in the future!
Thanks Khairul! And indeed to everyone in the Malaysian LibreOffice community. Your work is essential to help spread awareness of LibreOffice across the globe.
No Responses