04 Jul 2023
Welcome Michael Weghorn, new Developer at TDF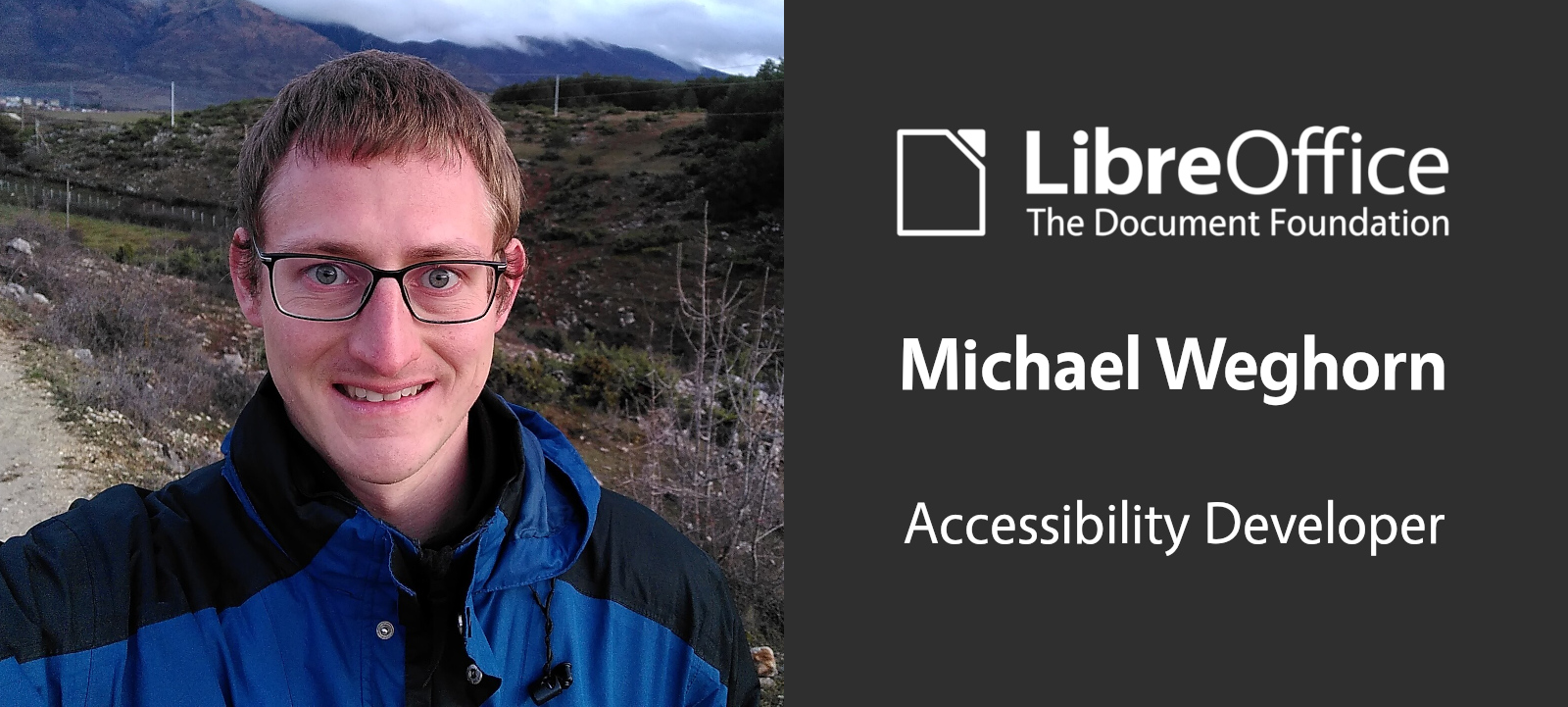 The Document Foundation (TDF) is the non-profit entity behind LibreOffice, providing infrastructure and support for the community that makes the suite. Recently, TDF decided to expand its small team with two new Developers – the first (Khaled Hosny) focusing on "complex" text layout languages. Today, we welcome our second Developer, Michael Weghorn, who will initially focus on accessibility improvements. Let's hear from him…
---
Tell us a bit about yourself!
I am from Germany, and have been living in Munich since moving here for my studies in computer science about 12 years ago.
I am a free and open source software enthusiast.
Before coming to TDF, I was working for the City (administration) of Munich, first being part of their Linux client team – and since 2018 with the main focus on LibreOffice development. I am also a member of the LibreOffice Engineering Steering Committee (ESC).
Besides my involvement in LibreOffice, I have also contributed a few changes to other open source projects – mostly fixes for issues that I ran into myself as a user. The possibility to do this is certainly one of the many benefits of open source software.
Besides being an open source software developer, I'm involved in a Christian church and like meeting friends, sports and reading.
You've been in the LibreOffice project for a while – what have you been working on so far?
I have been involved in the LibreOffice project since 2014, mostly in QA (Quality Assurance) and development.
The first code change I was working on had to do with the selection of the Java runtime on LibreOffice startup, and I was also translating German comments in the source code back then.
Since then, I have mostly been working on fixing bugs in different areas of LibreOffice. The main areas that I have been focusing on are Qt/KDE integration, the Android version and accessibility.
What's your new role at TDF, and what will you be working on?
I'm joining TDF as a LibreOffice Developer, focusing on accessibility.
Accessibility is quite a broad topic, ranging from the accessibility of LibreOffice's user interface to the accessibility of the documents that the program creates.
From what I have seen so far, LibreOffice has a good basis regarding accessibility. It's also great to see recent contributions by others to further improve accessibility (eg improvements for document accessibility and PDF/UA export, the accessibility checker and accessibility on macOS), but there are certainly also areas that will benefit from getting some more attention.
My initial focus will probably be fixing problems encountered in the user interface when using LibreOffice with a screen reader.
From my experience so far, this often not only involves making changes to LibreOffice itself, but also to the corresponding screen reader or elsewhere in the accessibility software stack. Therefore, cooperation with other projects is also essential.
How can all users of LibreOffice help out?
There are different ways to get involved – for example:
Join the LibreOffice accessibility mailing list
Report accessibility issues in the Bugzilla issue tracker and set the "accessibility" keyword for accessibility-related bugs, so developers become aware and can fix them
Confirm already existing bug reports and add more helpful information to them
Test development versions of LibreOffice with assistive technology (and report bugs), so issues can be fixed before a new version is released
If you're a developer: help with fixing reported bugs
There's also an accessibility page in the wiki, which contains some more information and will be further updated in the future.
---
Great to have Michael on board! 😊 Follow this blog and our Mastodon and Twitter accounts for updates on his work – plus more news from the LibreOffice community.