27 Jul 2021
The Draw Guide 7.1 has arrived!
Led by Peter Schofield, the LibreOffice Documentation Team is proud to announce the release of the LibreOffice Draw Guide 7.1, the ultimate guide for LibreOffice Draw.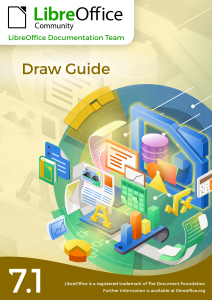 LibreOffice Draw produces anything from a quick sketch to a complex plan, and gives the means to communicate with graphics and diagrams. With a maximum page size of 300cm by 300cm, Draw is an excellent package for producing technical drawings, brochures, posters and many other documents. Draw manipulates graphical objects, group them, crop them, use objects in 3D and much more.
"The Draw guide update is long due in the set of LibreOffice Guides and I am happy to have coordinated the effort to bring it to the community. LibreOffice Draw is a powerful vector drawing tool plenty of resources and the Guide is the most comprehensive text on the features. I hope the Draw community will thrive with this book."
The Draw Guide is available in PDF format and is part of the LibreOffice Library, a set of advanced guides for the LibreOffice productivity suite. Download other important LibreOffice guides in our Documentation website.
Meet the documentation team page!

Happy documenting!
Comments