20 Apr 2021
Annual Report: The Document Foundation in 2020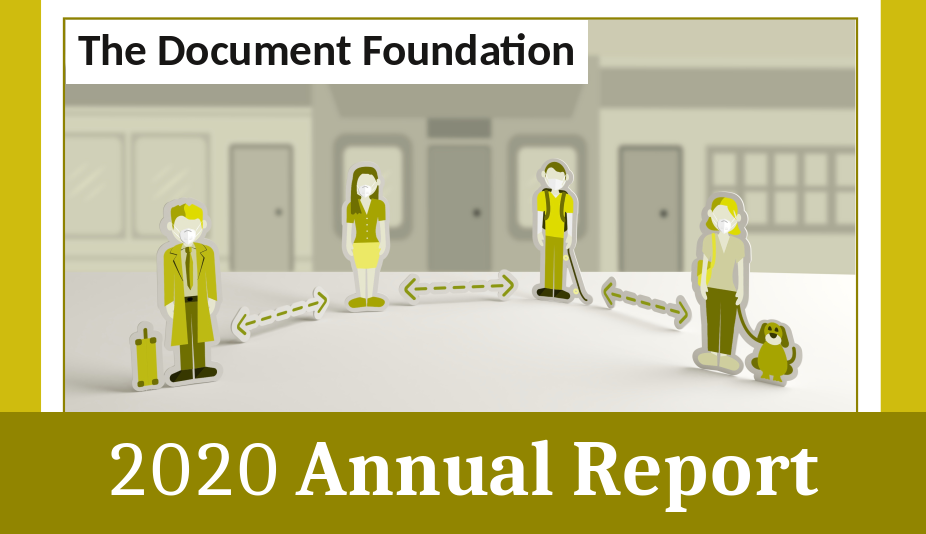 In 2020 we had with elections for the foundation's Membership Committee, along with regular Advisory Board calls, and support for other projects and activities
(This is part of The Document Foundation's Annual Report for 2020 – the full version will be posted here on the blog soon.)
---
Election of new Membership Committee (MC)
Members – more formally known as the "Board of Trustees" – are a crucial part of The Document Foundation. They are people from across the globe who contribute time, effort and skills, whether on a voluntary or paid basis. Members can vote for the Board of Directors (aka BoD) and the Membership Committee (MC), and also nominate themselves for a position in the BoD and the MC. The mission of the MC is to administer membership applications and renewals following the criteria defined in the Foundation's Statutes.
In July, we announced the process of elections for the next MC, which is in place from 19 September 2020 until 18 September 2022. Initially, we started by opening up nominations; TDF members could nominate themselves for a position in the MC, or nominate others.
On 1 September, Franklin Weng announced the final list of 13 candidates, along with the voting phase, which ran from 4 – 10 September. All members were sent tokens so that they could vote anonymously during this time. On 16 September, Franklin announced the final results, where voting preferences were considered according to the Meek STV method with Droop-Dynamic-Fractional setting, default threshold.
Elected Members: Marina Latini, Muhammet Kara, Gabriele Ponzo, Gustavo Buzzatti Pacheco, and Ahmad Haris. Elected Substitute (Deputy) Members: Shinji Enoki, Uwe Altmann, Dennis Roczek, Jona Azizaj.
TDF's Board would like to say thank you to all past and new members of the Membership Committee for their service to the community, and to all candidates for running. Congratulations to the newly elected Committee Members and their deputies.
---
Advisory Board members and meetings
The Document Foundation relies on its Advisory Board Members in order to receive advice and support. The Advisory Board's primary function is to represent The Document Foundation's supporters and to provide the Board of Directors with advice, guidance and proposals. Current members are Adfinis SyGroup, allotropia software GmbH (joined in 2021), Red Hat, Collabora, GNOME, Google, Kopano b.v., City of Munich (Landeshaupstadt München), the Free Software Foundation (FSF), CIB Software, LLC RusBITech-Astra, IHC Invest Inc., Software in the Public Interest (SPI), KDE e.V., UK Government Digital Services, and the Free Software Foundation Europe (FSFE).
Throughout the year, TDF had regular calls with representatives of the Advisory Board. Staff and Board members at TDF provided updates on the foundation, software and community, and described plans for the future. Advisory Board members were invited to provide valuable feedback on TDF's activities, and various ideas and proposals were discussed. TDF would like to express its thanks to all of the members for their help.
---
Highlights of activities
Throughout the year, TDF supported various campaigns and events, via this blog and social media channels. For instance, on 14 February we joined the Free Software Foundation Europe's campaign "I love Free Software". This was the perfect opportunity to say thank you to the contributors of the various Free Software we love: developers, translators, designers, testers, or documentation writers, of huge software projects – or smaller ones.
Similarly, we backed International Women's Day on March 8, raising awareness against bias and prejudices. Free Software projects tend to be heavily male-dominated, but our community is trying to be more open and inclusive.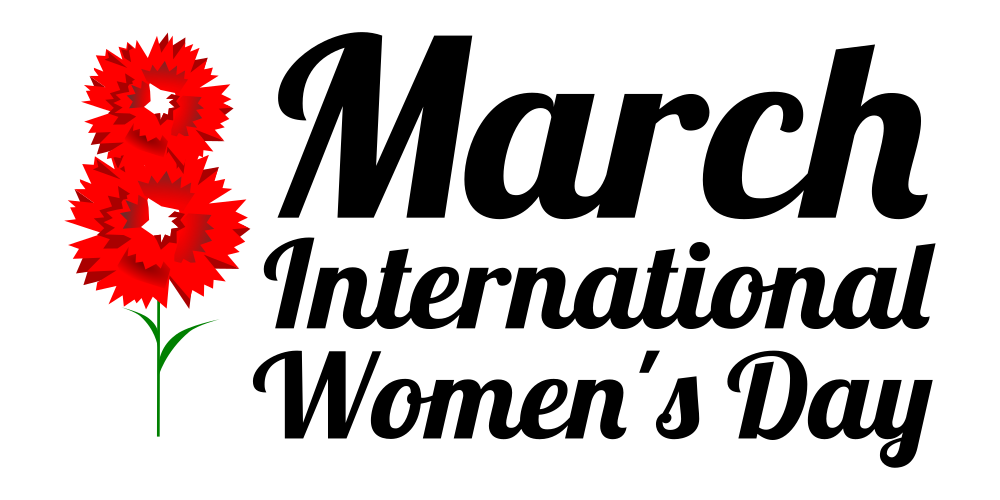 In March, we celebrated Document Freedom Day 2020, to educate organizations and users about the importance of adopting open document standards. This helps users to get back full ownership of their documents and content that they have developed, but have then – often unwittingly – left in the hands of a proprietary software vendor. LibreOffice's native format, OpenDocument, is fully standardised and available to everyone to implement, making it the best long-term storage format for office data.
In June, TDF celebrated its 500,000th donation (since we started counting on 1 May 2013). We are grateful to all the people who have donated, because they help all of us to keep the LibreOffice community growing and developing. Over the years, many donors added notes and feedback to their donations, so we collected them together in a blog post.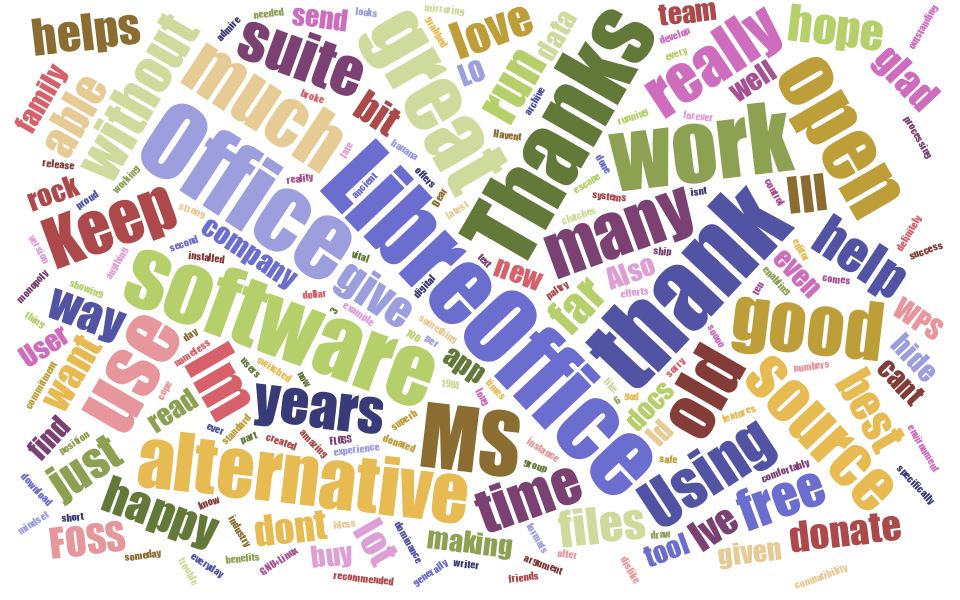 2020 had two milestone anniversaries for our projects, the first being 20 years of free office suites. On 19 July 2000, Sun Microsystems announced the release of the source code of its StarOffice Suite to the open source community, at the O'Reilly Open Source Convention in Monterey, California. This started the history of the community that helped to grow the OpenOffice project for nearly ten years, until the announcement of the acquisition of Sun by Oracle.
Then, on 27 September, we celebrated 10 years of LibreOffice, putting together a video with highlights of community activities and events over the past decade:
Please confirm that you want to play a YouTube video. By accepting, you will be accessing content from YouTube, a service provided by an external third party.
If you accept this notice, your choice will be saved and the page will refresh.
Finally, on 30 September, we supported International Translation Day. This is celebrated every year on the feast of Saint Jerome, the Bible translator who is considered the patron saint of translators. The celebrations have been promoted by International Federation of Translators (FIT) ever since it was set up in 1953. In 1991, FIT launched the idea of an officially recognized International Translation Day to show solidarity to the worldwide translation community, in an effort to promote the translation profession in different countries.
We celebrate our community of translators, which provide LibreOffice in 119 different languages (with more hopefully becoming available in the future), more than any other software. This helps us to fulfil one of the most important objectives of The Document Foundation: "to support the preservation of mother tongues by encouraging all people to translate, document, support, and promote our office productivity tools in their native language". Today, there are over four billion people in the world who can use LibreOffice in their native languages.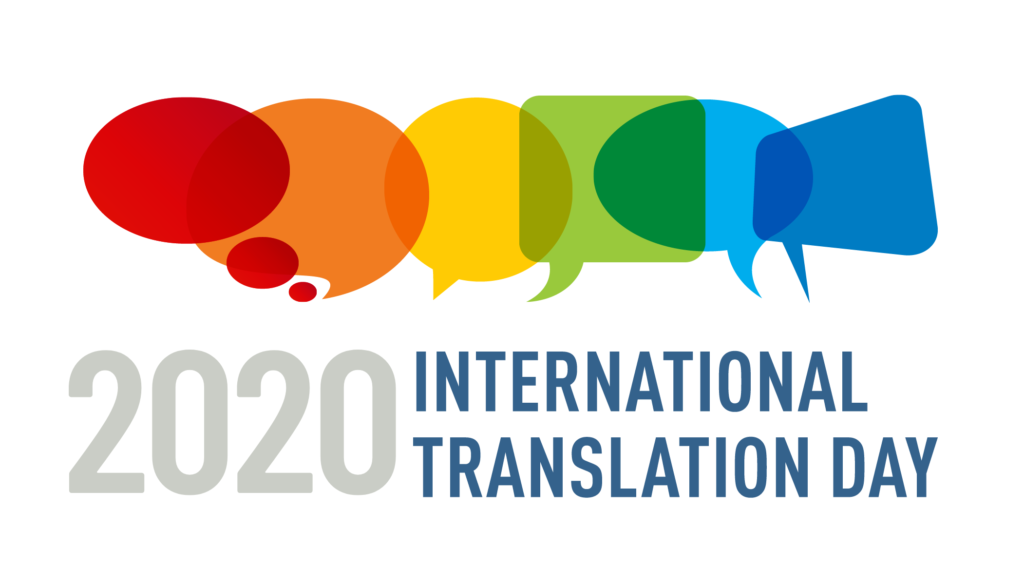 Comments