12 Apr 2021
Writer Guide 7.1 is just out!
The LibreOffice documentation team is happy to announce the immediate availability of the Writer Guide 7.1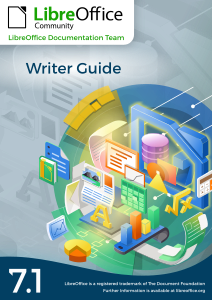 The book is a complete guide for users who want to explore the best resources of LibreOffice Writer, the word processor of the LibreOffice suite. Covering advanced topics such as styles, illustrations, indexes and table of contents, master documents, form design, document automation and more, this guide will bring your word processing skills to a professional level.
The Writer Guide 7.1 is a joint effort of Jean Weber and Kees Kriek, who reviewed and updated The LibreOffice 6.4 Writer Guide with the new features of LibreOffice 7.1, released last February.
"I enjoy writing user documentation for LibreOffice because it gives me an excuse to learn about new and improved features that I might otherwise not know about. The team members are good to work with, friendly and helpful. I especially want to thank Kees Kriek for reviewing all the chapters of this book."
The Writer Guide 7.1 is available for download at https://documentation.libreoffice.org and a printed copy at Lulu.com will soon be available.

Comments