23 Feb 2021
Getting Started with LibreOffice 7.0 Guide Just Arrived!
Get the LibreOffice introductory Guide and start producing professional documents.
The Documentation Team is happy to announce the immediate availability of the LibreOffice 7.0 Getting Started Guide, updated to include all LibreOffice 7.0 features.
The guide is written for anyone who wants to get up to speed quickly with LibreOffice. Readers may be new to office software, or may be familiar with another office suite. This guide is a valuable asset for all users.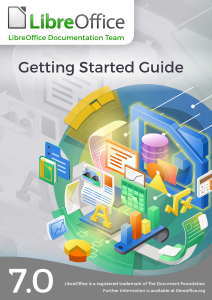 The book introduces the main components of LibreOffice:
Writer (word processing)
Calc (spreadsheets)
Impress (presentations)
Draw (vector graphics)
Base (database)
Math (equation editor)
It also covers some of the features common to all components, including setup and customization, styles and templates, macro recording, digital signature, and printing.
The guide is an effort of the documentation team, and in special thanks to Jean Hollis Weber, Leo Moons and Kees Kriek. Meet the documentation team page!

Happy documenting!
Comments