09 Nov 2020
Community Member Monday: Arnaud Mez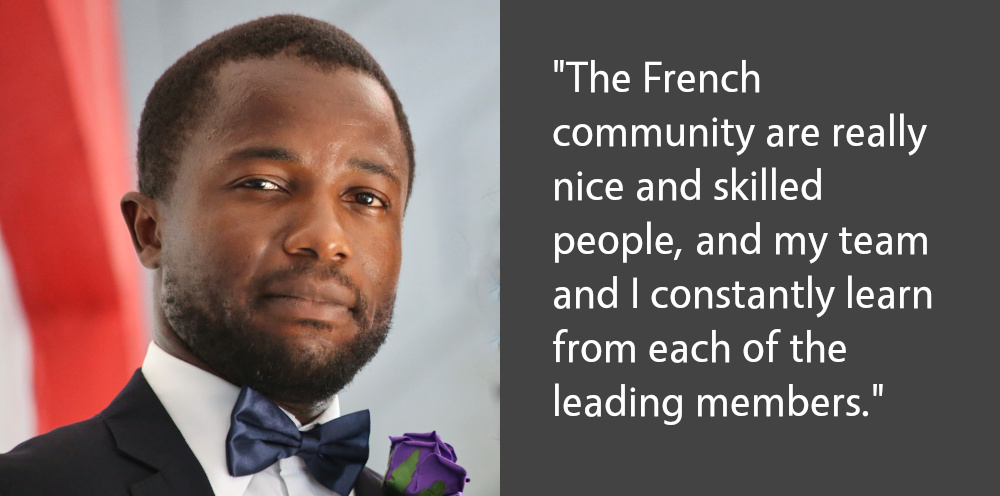 LibreOffice is way more than just an office suite – it's a worldwide project and community where people share ideas, build up their skills, and have fun. Today we're talking to Arnaud Mez, who's part of the Francophone community and who's spreading the word about LibreOffice and helping with design…
To start, tell us a bit about yourself!
I'm from the Republic of Congo (the one with Brazzaville as its capital city 🙂 ). I'm the owner of a small venture called Smarty TC, based in the town of Pointe Noire, the city I live in.
My everyday tasks and duties are exactly similar to my hobbies, as I constantly fight to stay focused on doing only what I love… So I do a lot of reading and listening to music, but beyond that I do a lot of research on the internet in order to keep an average but updated knowledge base. I did sport years ago… 😉 like Taekwondo until I reached the black belt level, and life just swallowed me up into the more exiting side: computers.
My favourite musicians are Joshua Aaron and Paul Wilbur, but I also love Hebraic and Japanese music as they have strong and deep cultural riches. I don't play games on my PC now and stopped playing on consoles, but my favourite games ever are Need for Speed Carbon, and the Zelda series starting from Ocarina of Time.
What's the situation like with LibreOffice and free software in Congo? Is it widely used, or are there challenges to adoption?
Well, I'd be modest and say we are still close to zero in terms of spreading the word everywhere in our country. The Republic of Congo is mostly influenced by almost 70% of what happens in France, with fewer real openings to proper technology, support etc. which makes things a bit more difficult.
The main challenges are having local people well-trained in FOSS and LibreOffice. The more people who get trained in a serious way and get accredited, the more FOSS and LibreOffice will spread – people here trust papers such as certificates more than everything, because they constantly think about getting employed, more than building up themselves and providing services.
There are some initiatives here touching on IT and computing, but they're led by people leading the retail industry, and most of them think about selling what they believe will bring more money – so less about growing people, if you get my point.
I decided to start my business after five years of being jobless, because I believe this: we have to stand up if we want to build up local competences. The more we train people, the more we encourage openness, and the more meetups we arrange, the more we create exposure. (Yes, I do some other types of lucrative work in my ventures, but I don't teach or train people to use Microsoft Office, or keep my focus on it.)
You're part of the Francophone LibreOffice community – how is that going? What do you do together?
As a French-speaking person, I had no choice but join the French community because it's the place where I can interact with ease. They're really nice and skilled people, and my team and I constantly learn from each of the leading members.
We mostly use Linux distros, not so much Windows, and we had a good time working with William Gathoye and Regis Perdreau on a solution to fix some visual imperfections that happen when LibreOffice is used with KDE Plasma. There we learned about the library causing that issue, but weren't sure if one of us reported it.
Sophie Gautier is really helping us with visuals and some materials, and now that we have more people learning, we are sending stickers around and they are proud and happy – which makes us happy too.
I personally share and talk a lot with Arnaud Versini who is a great source of knowledge. He actually helped me to step into OpenSUSE (I used SUSE back in 2007 until 2008) and start learning about its Open Build Service tool, which is really amazing and helpful.
Philipe Hemmel, Valerie Dagrain and all of the others in the community help us to understand more aspects and implications of the educational, associative and corporate parts of LibreOffice and FOSS culture. It's a very good place to be.
What else you working on in the LibreOffice project right now? Is there anything else you want to do?
Well, because I do graphic design and not that much deployment, I'd say nothing specific yet if talking about LibreOffice as a project – but locally here in Pointe Noire, I'm the one who organizes the "LibreOffice Sprint", the "LibreOffice Talks" and some more to come. So I'm more into planing and organizing things, and getting people to join in.
The recent COVID-19 wave led us to stop our activities, but with flexibility and social distancing happening day after day, we too are coming back on track – but still we need more support from the LibreOffice project. My goal is to have people here helping the project in many aspects, and not only using the software.
Many thanks to Arnaud – and indeed everyone in the French-speaking LibreOffice community – for all their great work and support. Check out our native language projects – we're building communities all around the globe. Is something missing from the list, or needs more work? Let us know, and let's improve it together!
No Responses