27 Jul 2020
Community Member Monday: Sandra Louvezo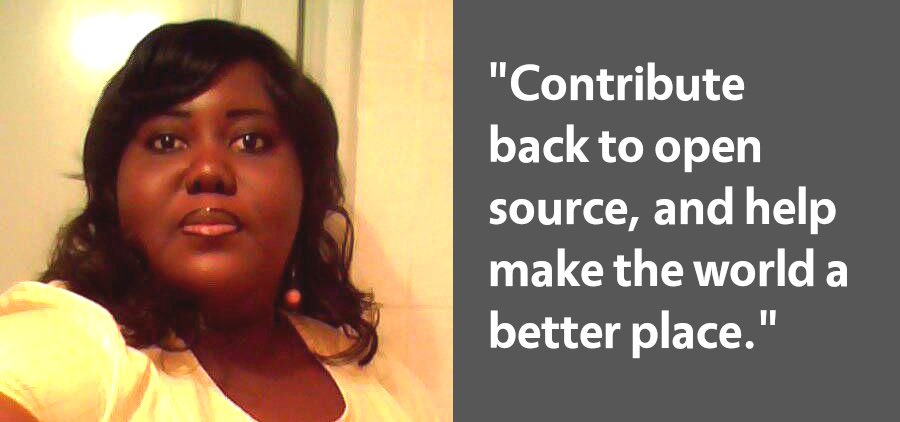 Today we're talking to Sandra Louvezo, who is helping to spread the word about LibreOffice and FOSS in Congo. Also, she recently became a Member of The Document Foundation, the non-profit entity behind LibreOffice…
To start with, tell us a bit about yourself!
I was born on August 31, 1984 in Pointe-Noire, the economic capital of Congo-Brazzaville. I achieved a BAC+3 in Human Resources Attaché at the Magrebin Institute of Science and Technology in Tunis, Tunisia (IMSET) in 2008.
Then I returned to Congo in 2009, where I worked for five years in local companies as an Accounting Assistant – Claims Writer – Head of Life and Health Insurance services at the Huet de Baroquer group, under the H branch in B Congo Insurance. Then I was Director of Human Resources in a service subsidiary and provision of Health, Safety and Environment (HSE) staff for two years.
For the past two years, until now, I have started my own business as a motivational and personal development coach, as well as a nutritional coach and caterer.
What are you working on in the LibreOffice project right now?
In Pointe-Noire I belong to a community called "Librists". Our goal is to help people discover the world of open source software here in Congo – which very few people know about. I am responsible for training people to use the LibreOffice suite, and we have named the training "SPRINT", which lasts 60 days per component starting from Writer, Calc, Impress etc.
The aim of this sprint is to help users learn the applications, and get their comments, to then bring back to the LibreOffice Francophone community, to which I also belong. Then we can continue to improve LibreOffice.
Why did you decide to become a member of TDF?
I decided to become a member in order to raise awareness, mobilize people, and bring LibreOffice to my country and Africa in general. Discovering LibreOffice and open source was a delight for me, and I want to teach others this life lesson: contribute back to open source, and help make the world a better place.
Anything else you plan to do in the future?
I am training to prepare the next SPRINT, which will start from the end of July to the beginning of August 2020 in several African countries such as: Congo Brazzaville, Cameroon, the Democratic Republic of Congo, Togo, Senegal and Benign. For 60 days, users will learn to use and discover LibreOffice Writer in the form of exercises, and the answers will be returned at the end of ech day.
The goal is to be present, so that each African country discovers LibreOffice and builds a mini community around it, before we start to offer the application to the different companies that have everything to gain from using it.
Thanks to Sandra for all her contributions! Our native language communities are always open for more help – so if you want LibreOffice and its website localised in your language, give us a hand!
No Responses