29 Nov 2019
Local event update: LibreOffice at OpenFest in Sofia, Bulgaria

LibreOffice community members attend many events around the world to spread the word about the software, encourage people to get involved, and have fun! We're really grateful for all their efforts. On November 2 and 3, the OpenFest 2019 took place in Sofia, Bulgaria, and Gabriele Ponzo was there. Here's his report:
What was the event about?
Sofia's OpenFest looks like probably the largest open source software and hardware festival in Bulgaria. There were plenty of people – more on Saturday than on Sunday.
There were three tracks, and a huge room for many workshops (four or five usually), which covered topics such as electronics skills improvement (eg soldering), or padlock cracking, or developing with Elasticsearch…
There was also an awesome kindergarten (with backlit sand projection game), a relaxation area and a speaker's corner, to allow attendees pose more questions to speakers, after their lectures. The organisation of the event was great, I must say, which includes pre and post parties, lead by Yana Petrova.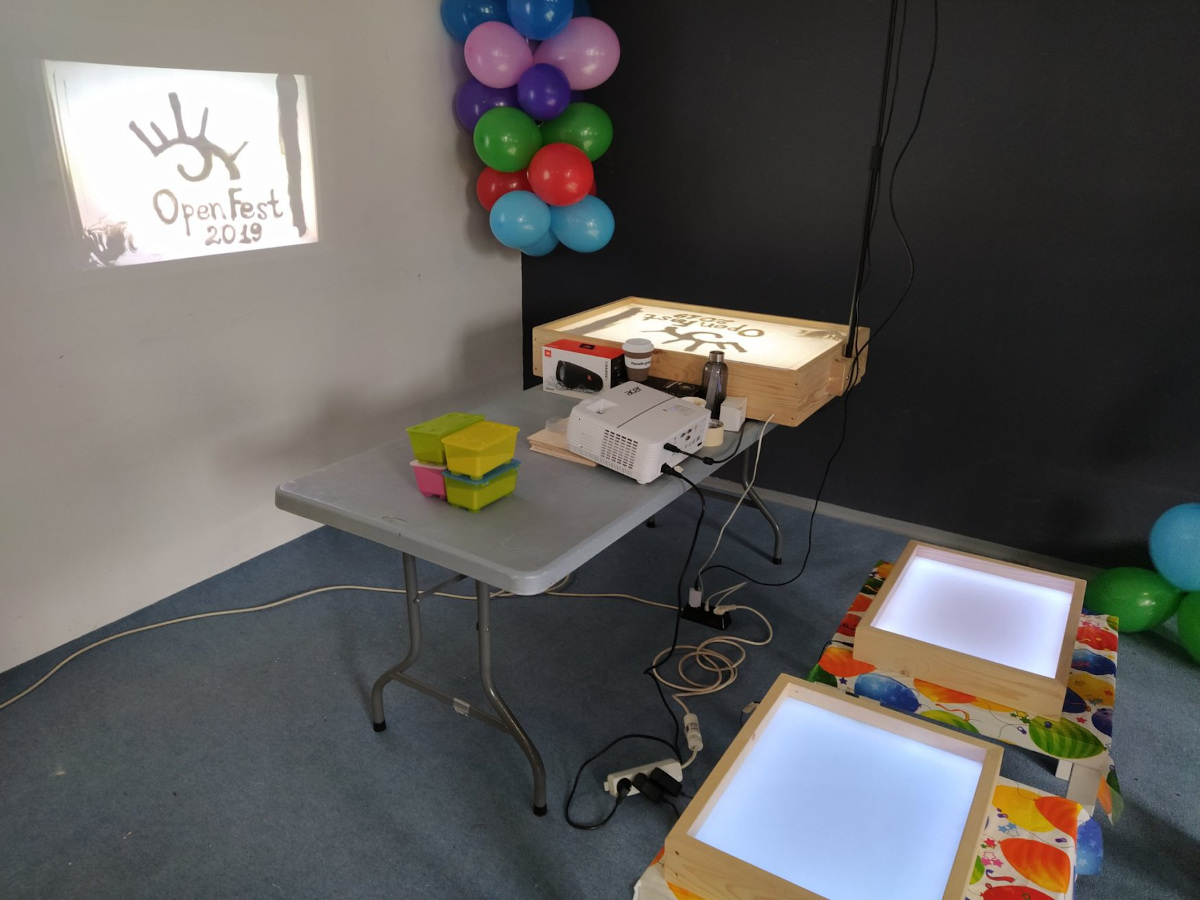 Why did you go there?
The goal of my mission was to create a local LibreOffice community, and possibly increase the membership base of The Document Foundation, the non-profit entity behind the software, having this country better represented. I've seen many people that were interested – so we'll see if they will become active in our community.
I also had a great opportunity to get in touch with a local technical school called TUES, which is a high school but really well connected with the university. We have now started an official dialogue, in order to try organising some kind of lecture or workshop there too.
My dream would be to have teachers giving students practice with our Easy Hacks and thus giving them the chance to get their hands on a real project's source code, and possibly improve it. This would have a great added value, from my point of view, in IT lessons, giving the students satisfaction and many real chances for the future.
What did you do there?
I had the opportunity to share a booth with the wonderful guys from the openSUSE community. They were really kind and warm with me and helped in many ways, from coming to the airport to pick me, to talking about LibreOffice in Bulgarian to attendees of the booth, side-by-side with me who was doing in English.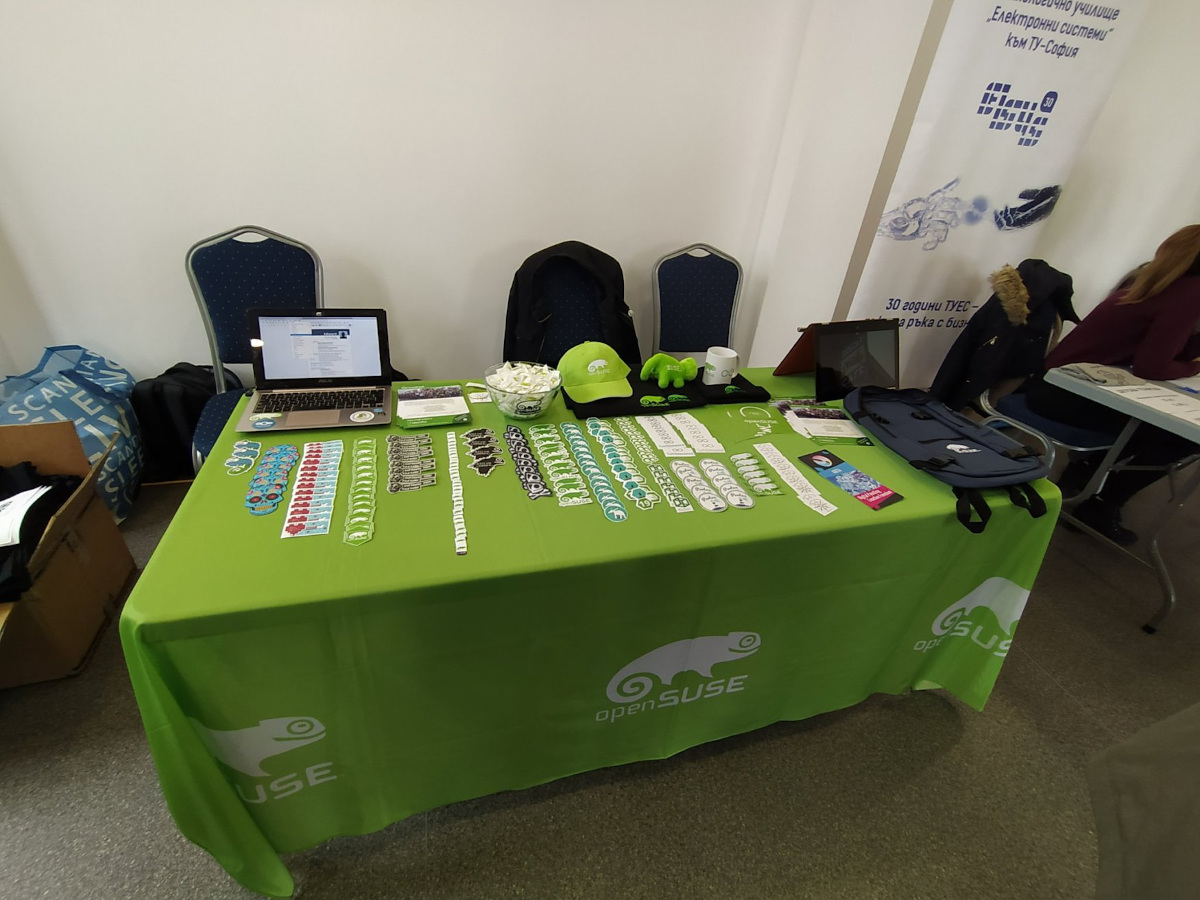 A special thank you goes to Dimitar Zahariev who was so gentle and I'm really happy and honoured to have become friend of, as well as to Rozalina, Rositsa and Rumen.
At the end of the morning of the second day, I had my usual talk about our community and TDF membership. The hall wasn't full, as in some other's lectures, but I received a lot of questions at the end, which gave me a lot of hope, and I also talked to two interesting speakers during lunch, about LibreOffice and its ecosystem.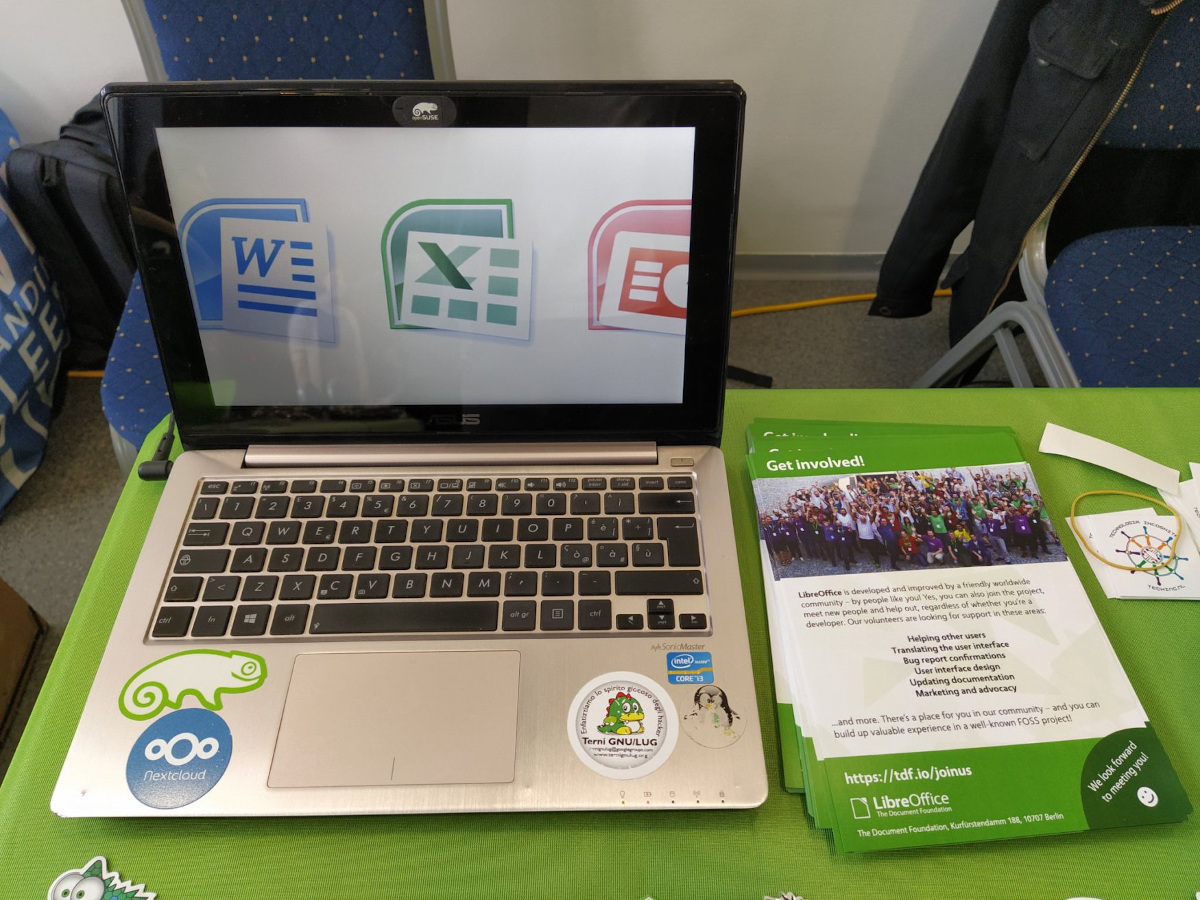 Are there any other events you'd like to attend?
I've been told by Yana that they'll probably have another event during next summer. Either that one and/or the next edition of this one; I'd like to come, but this time with someone else from our community, in order to have our own booth, with plenty of gadgets and marketing materials.
This time, in fact, we couldn't send anything there and Dimitar was so kind to print flyers for us. Then the organisation team have let us share a big LCD screen with the Kiwi TCMS guys, to show some videos. A thank you goes also to those last ones (Alex, Anton and Vasilena), who were so kind and generous to let use the screen one day per each booth. I've been talking to them too, in order to see if the two projects may collaborate.
The event really deserves our presence, from my point of view, since there was a lot of people attending, and the organisation was really professional, starting with the conference management software developed by them – we should ask them if we could try it for our conferences 😉 And also with the audio and video service (like at FOSDEM!).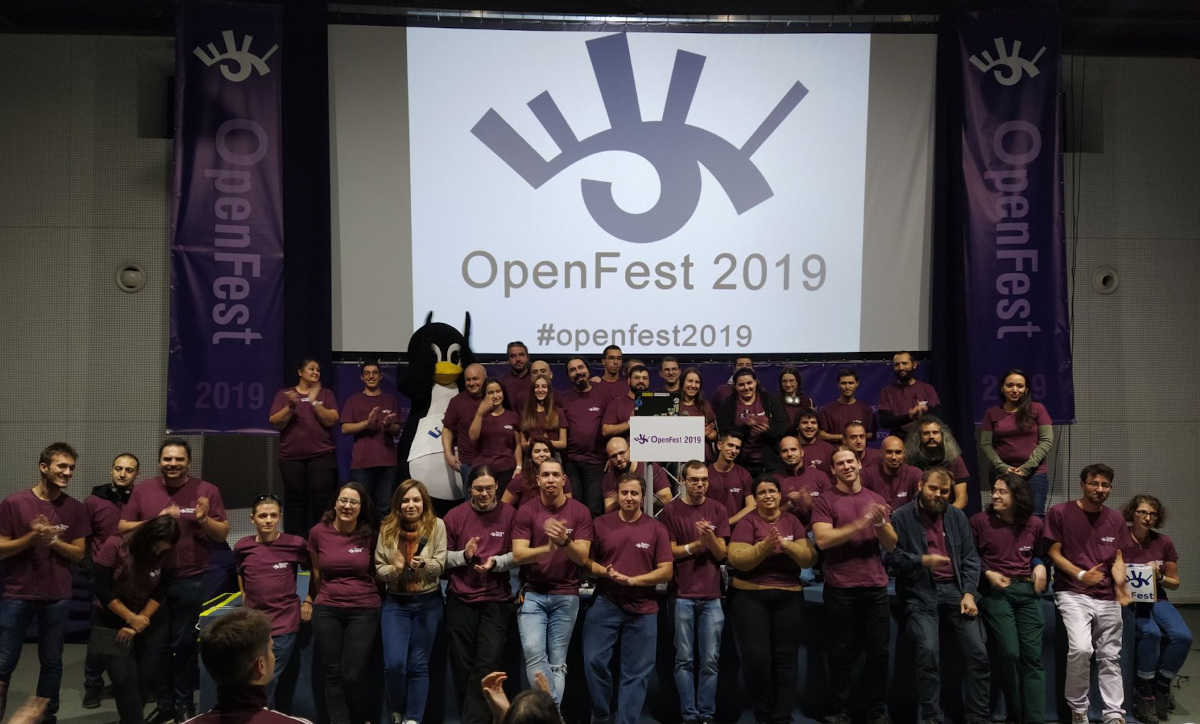 How can community members get involved and help out at other events?
When we have a booth, especially if it's not shared, more people are necessary, to cover whole days. This gives everyone the chance to do other things – to have the possibility to follow some talks, do some PR, and get some rest now and then. But the best would be to have people who're not shy, possibly used to speaking in public, and used to approaching unknown people – in order to interact with them and explain our project.
Another way to involve attendees is to have some kind of game or challenge, giving some gadget as a prize. This is something I've seen at most of the booths at this conference.
In conclusion, I really enjoyed this event and I hope to come back and increase even more our presence and our brand knowledge, hoping to find always more contributors to our projects, who could also be the numerous IT companies present in Bulgaria.