08 Jul 2019
Community Member Monday: Jun Nogata
Today we're talking to Jun Nogata from our Japanese community!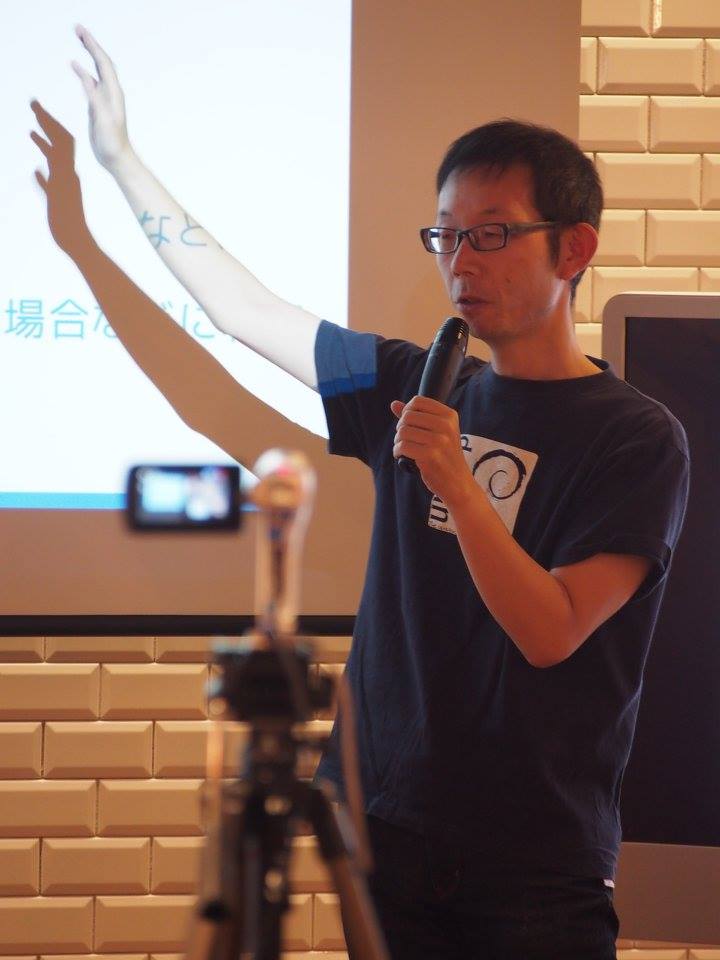 To start, tell us a bit about yourself!
So, I live in Himeji, Japan where UNESCO World Heritage site Himeji Castle is. I work a part-time lecturer at a local university.
I am a big fan of free and open source software (FOSS). I started to use Linux from Slackware 95, and I'm using Debian Sid at the moment. I am active in the Debian community in Japan and I'm also an OpenStreetMap mapper.
I like listening to indie rock music, playing guitar and DJing sometimes. Also, I'm learning Korean – I want to talk to my friend DaeHyun Sung from the Korean LibreOffice community!
Oh, and I created the LibreOffice Impress templates "Midnight Blue" and "Alizarin" – thank you for using them. On social media, you can find me on Twitter and Facebook.
What are you working on in LibreOffice at the moment?
I am working on the Japanese Ask LibreOffice website as answerer and moderator – and I'm also involved in marketing and public relations for the Japanese team.
Previously, there was no marketing from the Japanese team. December 2018, I started to post information about LibreOffice from the Japanese community Twitter accounts. There were reactions from the users, like: "I was worried that there was no information about LibreOffice, but now it's getting better."
I talked to the Japanese team about the necessity of creating a blog, to share and communicate information outside of social networking services. Naruhiko Ogasawara consulted with Italo Vignoli to create the blog for the Japanese team. I am happy to add information about LibreOffice in Japanese to the blog.
Is there anything else you'd like to work on in the future?
I would like to try to improve the Japanese settings. LibreOffice is known as "cost-free, but poor-quality office software" in Japan because LibreOffice's settings are not appropriate for the language.
In Japanese, for example, you can set characters per line and lines per page to determine the page layout, but the page style text grid is not able to specify characters per line and lines per page due to improper implementation. (If you are interested, please set 37 characters x 30 lines, without changing the font and ruby size.) I will try to fix these settings and change the bad image.
How did you originally get involved with LibreOffice – and what was the experience like?
As a user, I was attending the "Kansai LibreOffice Group" (関西LibreOffice勉強会) hosted by Shinji Enoki. My templates were included in LibreOffice 4.4 – it was a big surprise, and a pleasure for me that I could contribute to LibreOffice without changing the source code. A big thanks to the whole community for LibreOffice!
Finally, what do you see in the future for LibreOffice? What does it need most?
Ideally? users in all languages can use LibreOffice without changing any settings. The paragraph style of Writer is "Align left", but in Japanese, "Justified" is standard. Japanese users need to change the settings before writing documents. That is very difficult.
However, if set the default setting to "Justified", Americans and people who speak European languages will be in trouble. So I think that LibreOffice can create a mechanism to resolve conflicting settings in different languages.
Thanks Jun! Japanese LibreOffice users are welcome to join us and get involved in the project – we look forward to meeting you! (Also check out the English page too.)