06 Aug 2018
LibreOffice 6.0 Writer Guide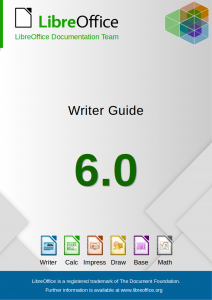 LibreOffice Documentation Team has just released the LibreOffice 6.0 Writer Guide, with a general Introduction to LibreOffice Writer followed by the following chapters: Working with Text (basics), Working with Text (advanced), Formatting Text, Formatting Pages (basics), Formatting Pages (advanced), Print Export Email, Introduction to Styles, Working with Styles, Templates, Images & Graphics, Lists, Tables of Data, Mail Merge, TOCs Indexes Biblios, Master Documents, Fields, Forms, Spreadsheets Charts Objects, Setting Up Writer and Customizing Writer, for a total of 448 pages.
LibreOffice 6.0 Writer Guide is available from TDF Wiki as ODT and PDF, both the complete book and individual chapters, and from ODF Authors as ODT of individual chapters.
LibreOffice 6.0 Writer Guide is also available as a printed book from Lulu, by Friends of Open Document Inc., an Australia-based volunteer organisation with members around the world which will be using profits from the sale to benefit the LibreOffice community.
Comments