12 May 2017
LibreOffice on social media: stats for June 2016 – April 2017
To help spread the word about LibreOffice and get feedback from users (and contributors), The Document Foundation operates various social media accounts. Some of these have been running since the start of the project – while others are relatively new. We've been collecting statistics about our social media accounts for a while, so let's share them with the world.
Twitter
Our Twitter account is used mainly for announcements, links to blog posts and videos, and retweeting interesting messages from LibreOffice users. We sometimes get questions as well, although it's hard to provide long answers in 140 characters, so we often point users at Ask LibreOffice instead. Here's our follower count in recent months: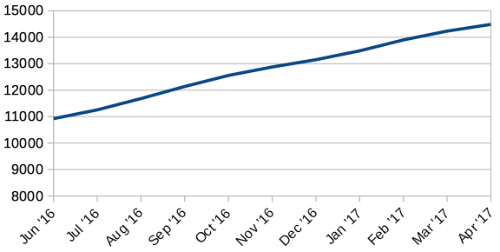 Facebook
Meanwhile, our English-language Facebook page is getting busier, and via it we receive lots of messages of support (along with requests for new features). The audience tends to be made up of end-users rather than developers, although we encourage people to get involved with non-coding tasks such as translations, testing and documentation. This graph shows the growth in page likes over the last 11 months: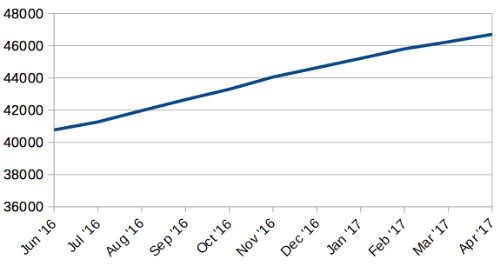 Google+
We also have a Google+ page, which isn't as busy as Facebook, but our followers there tend to be more technical – so it's a great place to bring in potential contributors. In terms of followers, the growth here over the last 11 months hasn't been huge, but there's steady progress: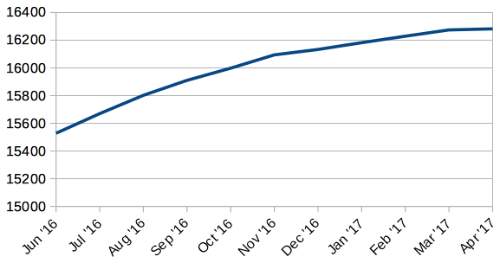 YouTube
We've been tracking the total number of video views on our YouTube channel since November 2016. Due to the new content we've been adding, including new features videos, interviews and tutorials in many languages (thanks to our worldwide community), the total view count has shot up: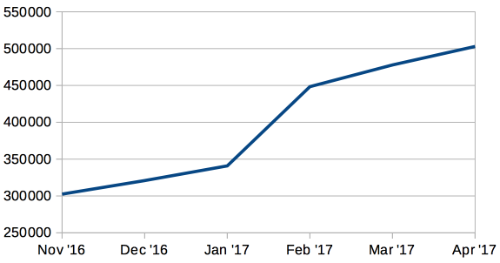 Others
The LibreOffice community on Reddit is quite small, but we're posting regular updates and encouraging users to help one another with questions. Then there's our Telegram group which we launched late last year – this has reached almost 400 members.
Finally, if you think LibreOffice and/or The Document Foundation should be active on some other social media that we've not covered in this post, join our marketing community and let us know!