25 May 2022
Peter Schofield and Kees Kriek are happy to announce the Draw Guide 7.3  with the latest LibreOffice Draw 7.3 developments.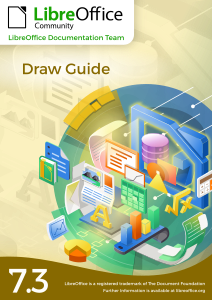 This 348 pages book covers the main features of Draw, the vector graphics component of LibreOffice. Using Draw, a wide variety of graphical images can be created.
Vector graphics store and display a picture as simple geometric elements such as lines, circles, and polygons rather than as a collection of pixels (points on the screen). This permits simpler storage and supports precise scaling of the picture elements.
Draw is fully integrated into LibreOffice. This simplifies exchanging graphics with Writer, Calc, and Impress. Images can be exported in many formats for use in other programs.
Thank you guys for the wonderful Draw Guide!
The full set of published LibreOffice guides is available in the LibreOffice Documentation Website and in the LibreOffice Bookshelf Project.

Comments