24 Feb 2022
Başlangıç Kılavuzu for Turkish LibreOffice Users
Ayhan Yalçinsoy gifted the Turkish community with the long awaited LibreOffice Başlangıç Kılavuzu, easing Turkish users to master LibreOffice. The guide is the translation of the English book Getting Started Guide carried by Ayhan, member of The Document Foundation and Board of Directors deputy.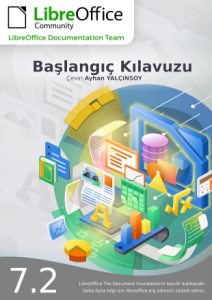 "I've been using LibreOffice since 2010. It makes me happy to support and contribute to this application that I use with pleasure. For this reason, I have been trying to contribute by translating the interface and help text since the day I started using it. I know that every contribution counts in the open source world." says Ayhan. "I would like to thank Muhammet Kara for what he has done for LibreOffice here. I learned from him how I can contribute to LibreOffice apart from interface translation. I solved some easyhack issue with his support."
Ayhan continues describing the endeavor: "After all these contributions, we established a certification team. We started the translation work for the LibreOffice Getting Started Guide 6.2 about a year ago, but for some reasons we could not continue. This issue remained in my mind. Finally, with the encouragement of Muhammet Kara and the sponsorship of TUBITAK/ULAKBIM, I completed the translation of Getting Started Guide 7.2. Uploaded to tr.libreoffice.org and documentation.libreoffice.org. I hope it will be useful for the users."
The work relied on participation of other Turkish community members: "Of course, I did not prepare the images in the Guide. I would also like to thank Murat Özgün for preparing all the visuals, despite his busy schedule."
"I am currently working on the LibreOffice Calc 7.2 Guide. I aim to bring all the guides in order to the community that uses LibreOffice in Turkish. I hope I can make it. It would be very difficult for me to do it all alone. But I think I can find volunteer friends to help. With their support, we can get through this."
Let's call the Turkish community to come and help Ayhan's effort on the LibreOffice Guides set.