23 Feb 2022
Getting Started Guide 7.3 companion to LibreOffice Community 7.3
The Documentation Team is happy to announce the immediate availability of the Getting Started Guide 7.3, only days after the release of the LibreOffice Community 7.3.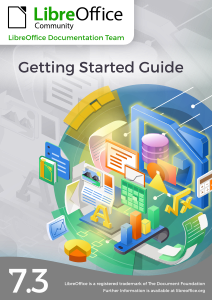 This book is for anyone who wants to get up to speed quickly with LibreOffice 7.3. It introduces Writer (word processing), Calc (spreadsheets), Impress (presentations), Draw (vector drawings), Math (equation editor), and Base (database).
The book is an effort of Kees Kriek, Vasudev Narayanan and Peter Schofield, leaded by Jean Weber and has been updated from Getting Started Guide 7.2. It covers some of the new features that are visible in the user interface, but not all; others are covered in the individual component guides. Portions of this guide have been rewritten for clarity, and some topics not in previous editions have been included.

You can download the Getting Started Guide 7.3 from the LibreOffice Documentation Website or the LibreOffice Bookshelf Project.

Comments