24 Dec 2021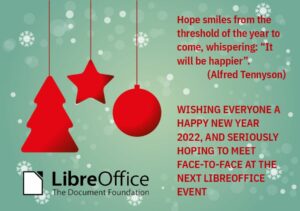 Dear community members, TDF members, Advisory board members, team members, membership committee and board!
Another year marked by the global pandemic is coming to an end these days. In addition to all the depressing news and circumstances that affect us all, there are also pleasing and uplifting developments.
Apart from the painfully missed opportunity to meet in person, be it in the local communities or at our annual conference, we have nevertheless achieved so much together, worked together and brought our foundation forward, so that we can already say that it was one of the most successful years for and with our project.
I would like to thank all of you on behalf of our project. Everyone has contributed to the success story in different ways. All the contributions intertwine, and without these individual parts the whole thing would not be possible and so successful. Especially in these times. Thank you very much again for this.
And it is precisely this commitment, this proof of the resilience of our project during this time, that allows me to look to the future with good cheer. Please continue to support our community in so many ways in the coming year, every contribution is needed.
After two very intensive and busy years, I myself will say goodbye to the board, but after a short phase of rest, I will continue to work with you in the project in one or two different places again. I wish the newly elected board all the best!
I wish you and your beloved ones a few days of recreation at the end of this year and a stable good health for the next one.
Thanks again and hope to see you all with your contributions in the new year again,
yours
Lothar Becker
as chairman of the board
Comments