09 Sep 2021
LibreOffice Getting Started Guide 7.2
The LibreOffice Documentation Team is happy to announce the LibreOffice Getting Started Guide 7.2, covering the latest innovations of the best open source office suite. The new guide is an effort of many volunteers and among them, Jean Hollis Weber, Kees Kriek, Peter Schofield, Vasudev Narayanan, Rafael Lima and Mitchell Camfield.
A big THANK YOU ALL ! YOU ROCK!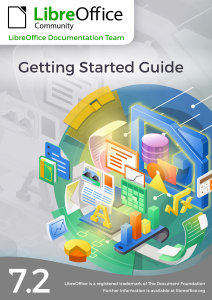 The guide is an excellent introductory text for those looking to quickly acquire skills on office suite and LibreOffice. It has been updated from Getting Started Guide 7.1 and covers some of the new features that are visible in the user interface, but not all; others are covered in the individual component guides.
General
Popup list to search for menu commands (Help > Search Commands)
New list view for the templates dialog (Chapter 3)
Built-in "Xray"-like UNO object inspector (Chapter 13)
Writer
Background fills can cover whole pages, beyond margins
Page styles can now have a gutter margin
Mail merge shows a warning about nonexistent data sources
List terminology has changed in many dialogs
Templates dialog has been improved
Additional metadata features in Style Inspector
Calc
Can now filter by color in AutoFilter
HTML tables listed in the External Data dialog now show captions
"Fat cross" cursor is available in the options
Paste Special dialog has been redesigned and a new "Formats Only" preset added
Type can be selected in "Moving Average" trend lines
Impress and Draw
New templates
Multiple columns now available in text boxes
Direct access to the scaling factor via the status bar
New topics have been added to Chapter 13 (macros): a Calc macro, and the ScriptForge library.

Comments