01 Jul 2021
Announcing the LibreOffice Getting Started Guide 7.1
Jean Weber, Kees Kriek, Felipe Viggiano and Peter Schofield from the LibreOffice Documentation Team are happy to announce the immediate availability of the Getting Started Guide 7.1, the introductory guide for all readers that need to start using the LibreOffice suite and quickly get to the proficiency level.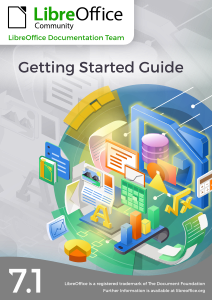 Covering all LibreOffice modules, from the Calc spreadsheet to the Base database and including chapters on the suite settings as well as macro coding, the Getting Started Guide 7.1 is a valuable companion for organizations that must deploy documentation on LibreOffice together with the software suite on their offices and also at user's home.
The Guide is available in PDF format and is part of the LibreOffice Library, a set of advanced guides for the LibreOffice productivity suite.
Meet the documentation team page!

Happy documenting!
Comments