07 May 2019
First LibreOffice Latin America Conference: Call For Papers
The Document Foundation invites all members and contributors to submit talks, lectures and workshops for this year's First LibreOffice Latin America Conference in Asunción, Paraguay. The event is scheduled for mid July, from Friday 19 to Saturday 20. Whether you are a seasoned presenter or have never spoken in public before, if you have something interesting to share about LibreOffice or the Document Liberation Project we want to hear from you!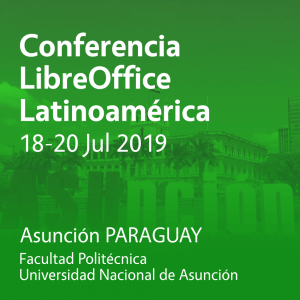 Proposals should be filed by May 31st, 2019, in order to guarantee that they will be considered for inclusion in the conference program.
The conference program will be based on the following tracks:
a) Cases of migration to LibreOffice
b) Standard OpenDocument Format (ODF)
c) Community & Ecosystem
d) Resources & functionalities of LibreOffice
e) Quality Assurance
f) Localization, Documentation and Native Language Projects
g) Advocating LibreOffice
Presentations, case studies, workshops, and technical talks will discuss a subject in depth, and will last 30 minutes (including Q&A). Lightning talks will cover a specific topic and will last 5 minutes (including Q&A). To submit your proposal, visit https://latam.conference.libreoffice.org/
The talks will be presented in the auditorium of the Polytechnic Faculty of the National University of Asuncion (FPUNA). The authors of the approved talks will be notified by e-mail as of June 10 and the publication of the preliminary programming grid will be carried out on June 30. The event is free and registration is open.
If you do not agree to provide the data for the talk under the Creative Commons Attribution-Share Alike 4.0 License please explicitly state your terms.
If you want to give multiple talks please send a separate response for each.