01 Dec 2017
Month of LibreOffice, November 2017: The results!

The Month of LibreOffice, November 2017 has finished – and what a great month it has been. There have been contributions all across the project, including source code patches, bug report confirmations, user interface translations and documentation updates. Not to mention user support on Ask LibreOffice, along with LibreOffice promotion on Twitter! Here's how many stickers have been awarded:
Click the number for the full details. And if you see your name (or username) on that page, claim your sticker for your laptop, PC or other devices! Simply email mike.saunders@documentfoundation.org with your name (or username) from the wiki page, and "Sticker claim" in the subject line, along with your postal address. We'll send you a sticker in the next couple of weeks – and it'll look like this: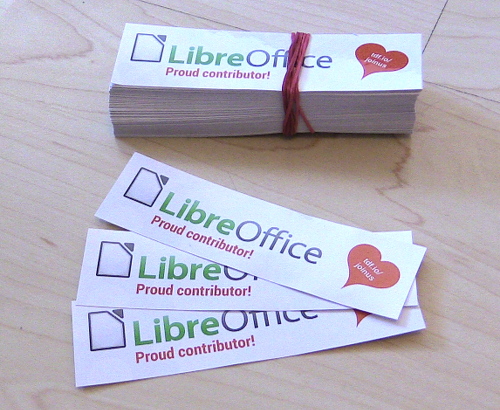 (Note that your postal address will only be used for posting the sticker to you, and not be stored afterwards or used otherwise.) Enjoy showing off your sticker, and thanks again for your contribution!
Going into detail
So what happened over the month? Let's go through the sections on the stickers page. The first, code patches, shows source code contributions from community members. It has been great to get fixes, updates and new features from the community – and note that this list doesn't include people who are paid to work on the code on a daily basis! See here for a full list of recent development activity.
Next up we have bug report confirmations. This is an important job, and our QA community works hard to categorise and check new bug reports as they come in. It's also a way for anyone to get involved, even if you're not a developer: just find a new report on our bug tracker, see if it affects you as well (with the latest LibreOffice version), and confirm it if so. This helps our QA team to narrow down the cause of a bug.
Then we had translations of the LibreOffice interface – lots of fantastic work there! One of the goals of LibreOffice is to make the software accessible to everyone, regardless of location or language, so it's great to see so many contributions here. Next we give credit to people who help other users on Ask LibreOffice, which isn't always an easy task, but the answers can be very useful for other people in the future.
Finally, we had documentation contributions and people spreading the word on Twitter. A huge thanks once again to everyone who took part, and don't forget to claim your sticker! We'll run another Month of LibreOffice next year – but you can get involved at any time. Join our friendly community, help make LibreOffice even better, and we look forward to your contributions!