01 Jun 2017
Month of LibreOffice, May 2017: The results!

So the Month of LibreOffice, May 2017 has come to a close. We've had awesome contributions all across the project, from code patches and bug report confirmations, through to translations and user support. Here's how many stickers have been awarded:
Click the number for the full details. And then, if you see your name (or username) on that page, claim your sticker! Yes, you can get a cool sticker for your laptop or other devices. Simply email mike.saunders@documentfoundation.org with your name (or username) from the wiki page, along with your postal address, and we'll send you a sticker in the next couple of weeks. It'll look like this: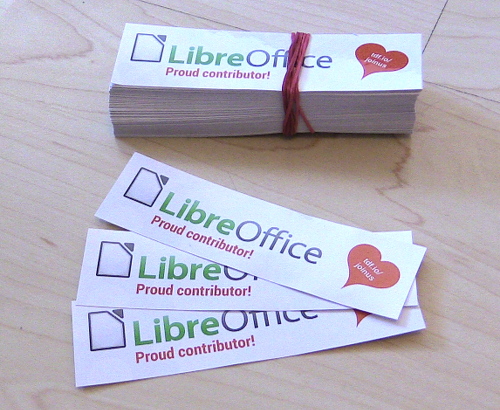 (Note that your postal address will only be used for posting the sticker to you, and not be stored afterwards or used otherwise.) Enjoy showing off your sticker, and thanks again for your contribution!
Behind the scenes
Meanwhile, let's reflect on the past month. This graph shows how the number of awarded stickers grew over the 31 days of May: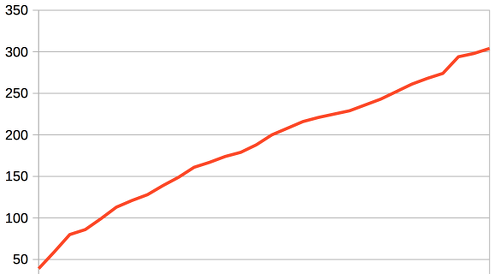 While there was a big jump at the start as new names were added, it was good to see a steady stream of additional LibreOffice contributors over the month. There were no really "quiet" periods – we were monitoring code patches, bug report confirmations, translations, documentation contributions and user support (on Ask LibreOffice), and every day we added new people to the stickers list. This reflects on a healthy and lively project and community, so long may it continue!
And a final word: when you look at the "Contributing code patches" section of the stickers page, note that these are community contributions, on top of the daily work done by paid LibreOffice developers. It's great to see so many people getting involved, exploring the source code and working on Easy Hacks.
We'll be running another Month of LibreOffice later in the year – but you can get involved at any time. Join our friendly community, help make LibreOffice even better, and we look forward to your contributions!