01 Dec 2016
Month of LibreOffice, November 2016: The results!

Yes, the Month of LibreOffice has come to an end – and what a great month it was. We celebrated contributions from all over the world, in many different areas of the project: development, translations, user support, quality assurance, documentation and social media. Everyone is working hard on the LibreOffice 5.3 release – and we're really grateful for all the effort!
So, onto the numbers:
You can see all the work going on in the different projects. These are contributions from our community, as we really want to show our appreciation for community members in the Month of LibreOffice, but of course there are many other people doing paid work on LibreOffice as well. Congratulations to everyone who got a badge – click the links under the names to share on social media or get an image for your blog, website or CV!
Then we have the barnstars:
Barnstars let community members show appreciation for one another, with bronze for small jobs, silver for bigger ones, and gold for especially notable contributions. If you got a barnstar, don't be shy and let the world know!
Here's a chart showing the badge count throughout the 30 days. You can see that it climbed steadily, with new names being added each day. This shows how healthy and thriving the LibreOffice project is: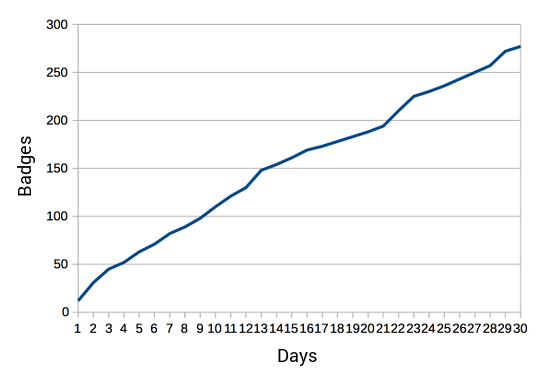 Finally, if you're a LibreOffice user and this has tempted you to get involved, welcome to the project! Even if you can only spare an hour or so each week, you can really make a difference with development, design, documentation, testing, marketing and helping other users. We look forward to working with you!
No Responses