30 Aug 2016
LibreOffice contributor interview: Susobhan Ghosh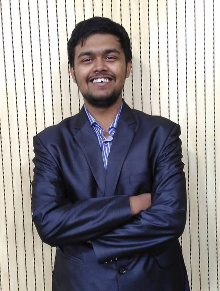 In this week's interview, we talk to Susobhan Ghosh, who got involved in the project earlier this year and has been working on tasks for the Google Summer of Code (GSoC).
First off, what's your IRC nickname, nationality and blog URL?
Where are you currently based, and do you work for a LibreOffice-related company or just code in your spare time?
​I'm currently living in Hyderabad, India. I'm a third year Computer Science and Engineering student at IIIT Hyderabad. I've been coding full time throughout the summer for LibreOffice as a GSoC student – otherwise I code in my spare time.
How did you get involved with LibreOffice?
I started in January 2016, with bug tdf#95845 – I had to replace methods for labels/tooltips with CommandInfoProvider. I ended up causing a regression, which I later on fixed with help from samuel_m. I started contributing more frequently in March, and learnt a lot while fixing the Firefox persona search (tdf#88502).
What was your initial experience of contributing to LibreOffice like?
Initially I had trouble building the suite, and also pushing patches due to network restrictions, but I received good support from the developers like JanIV and chris_wot on IRC, and also samuel_m for submitting my first patch. Overall, the initial experience was pretty nice.
What areas of the project do you normally work on? Anything else you want to tackle?
I'm currently working on the sidebar for GSoC, and I'm familiar with the Firefox personas search. I'd personally like to work on adding theming support for LibreOffice (similar to other office suites) apart from the Firefox themes and color changing options, to provide better customization options.
What is your vision for the future of LibreOffice?
I'm very much looking forward to quite a few things: LibreOffice Online, LibreOffice for Android, the NotebookBar, and added customization and themes for LibreOffice – all of which are under development right now.
What was the very first program you wrote?
My first program was in C++, similar to a Hello World program, except I printed my own name instead of "Hello, World".
Which is your preferred text editor, and why?
I'm not really a fan of the command line when it comes to editing. My favorite editor would be Sublime Text 3. I won't bring up the debate as to whether it's better than Vim or Atom or Emacs – I choose this just because I'm familiar with it have mastered it.
What do you do when you're not working on LibreOffice?
I'm generally busy with studies and research throughout the year. Otherwise during my holidays, I like to play games – FIFA, Assassin's Creed, Pokemon etc. Other than that, I watch football (FC Barcelona fan), go out for movies and hang out with my friends.
Thanks Susobhan! And thanks indeed to our whole community – if you're reading this and want to get involved, join us today and help to make LibreOffice even better.