14 Dec 2022
LibreItalia Conference in Empoli (December 10, 2022)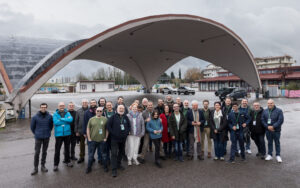 Members and supporters of LibreItalia, the not for profit association that promotes the use of open source software and open formats, met on Saturday, December 10, in Empoli (near Florence) to discuss the adoption of these solutions – which ensure the independence of companies and users from multinational technology corporations, and guarantee the freedom and privacy of content – in public administrations, in order to comply with the dictate of the Digital Administration Code, one of the most ignored Italian laws ever.
The use of software and document formats that are not controlled by a single company, and that are not driven by its business strategies, is a prerequisite in the direction of the independence of a country – starting with individual citizens and ending with institutions – that is the basis of the so-called "digital sovereignty," that is, self-sufficiency with respect to digital technologies controlled by Big Tech.
The 9th LibreItalia Conference, the first without the restrictions due to the pandemic, opened with welcome speeches by President Enio Gemmo and Gruppo Operativo Linux Empoli (GOLEM), followed by those of Flavia Marzano: FOSS in Public Administration, Professor Andreas Formiconi of the University of Florence: Importance of FOSS for Education, and Italo Vignoli on the political role of Associazione LibreItalia.
After the break for lunch, there were two talks by Marco Marega on the activities of the localization group and one by Gabriele Ponzo on how to contribute to the LibreOffice project, followed by the presentation of the migration protocol to LibreOffice, and a discussion session, with questions and answers.