04 May 2021
Annual Report: LibreOffice Conference 2020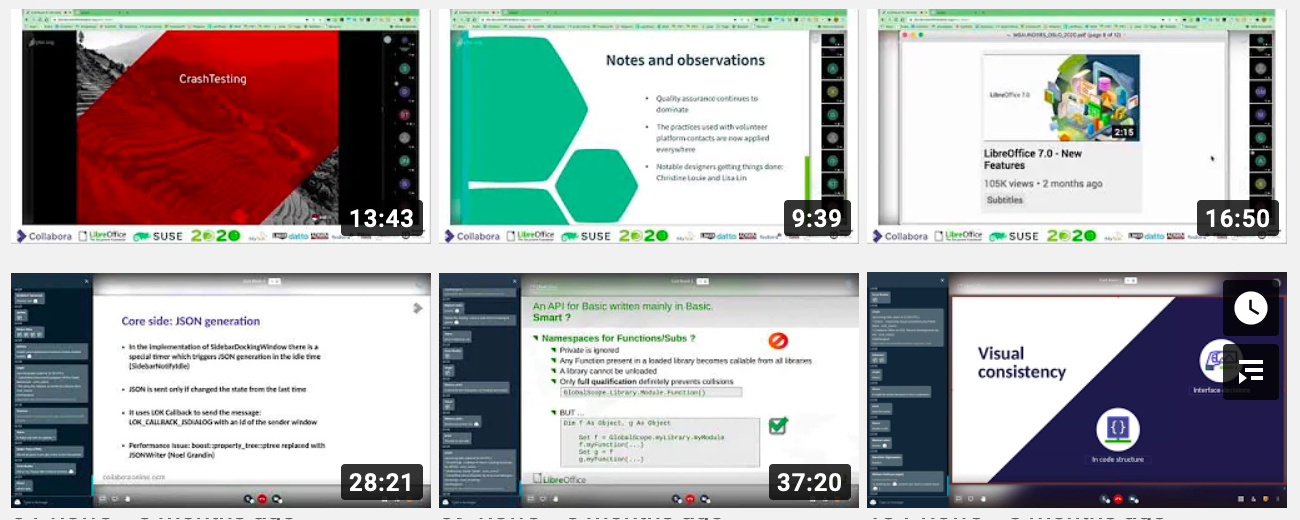 The LibreOffice Conference is the annual gathering of the community, our end-users, developers, and everyone interested in free office software. Last year, it took place online – and was co-organised with the openSUSE project
(This is part of The Document Foundation's Annual Report for 2020 – the full version will be posted here on the blog soon.)
Normally the conference takes place at a different venue each year, to reflect the international and diverse LibreOffice community. For instance, in 2019 we were in Almeria; in 2018 in Tirana; and in 2017 in Rome. Due to the ongoing coronavirus pandemic, though, we decided to move the conference online in 2020. This wasn't an easy decision, as face-to-face meetups are important for free and open source software projects, but we focused on making it work.
We did so with the help of openSUSE, a GNU/Linux distribution project, which also has yearly conferences. There's a lot of overlap between the openSUSE and LibreOffice projects – both produce free software for end users, and many people are active in both communities – so we decided to join forces and bring as many people together as possible.
The conference took place from 15 – 17 October, with sessions usually running from 10:00 to 21:00 (UTC). We created multiple Jitsi "rooms" for the various talks and presentations, along with extra rooms for social interaction and general chit-chat.
Conference Tracks
Following the opening session, presentations and talks were given across various "tracks" or categories: Development, Advocacy, Marketing, Design, Accessibility, Localisation, Documentation and more. There were highly technical talks focused on specific areas, along with more open discussions about community building and recent updates from The Document Foundation.
On the final day, the conference wrapped up with a closing session, headed by TDF's Chairman, Lothar Becker. He thanked the presenters and all attendees for their support, especially given that it was the first time we've run such a large event online.
Hackfest and Workshops
Outside of the conference tracks, there were several workshops covering certification, new tools to onboard contributors, strategic marketing, and the Google Summer of Code. On the final day of the conference, Ilmari Lauhakangas organised a Virtual Hackfest – an opportunity for developers to work together on features and bugs.
Full Programme
Full details about the event are available on openSUSE's events page. For a quick overview of all the talks, including links to PDF versions of the presentations, see here. Videos of many of the talks are available as a playlist on our YouTube channel (or click here to watch them on PeerTube):
Please confirm that you want to play a YouTube video. By accepting, you will be accessing content from YouTube, a service provided by an external third party.
If you accept this notice, your choice will be saved and the page will refresh.