10 Aug 2020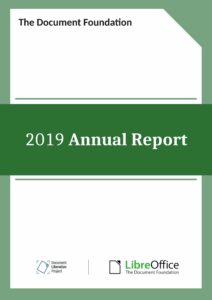 The Annual Report of The Document Foundation for the year 2019 is now available in PDF format from TDF Nextcloud in two different versions: low resolution (6.4MB) and high resolution (53.2MB). The annual report is based on the German version presented to the authorities in April.
The 54 page document has been entirely created with free open source software: written contents have obviously been developed with LibreOffice Writer (desktop) and collaboratively modified with LibreOffice Writer (online), charts have been created with LibreOffice Calc and prepared for publishing with LibreOffice Draw, drawings and tables have been developed or modified (from legacy PDF originals) with LibreOffice Draw, images have been prepared for publishing with GIMP, and the layout has been created with Scribus based on the existing templates.
All pictures are licensed under the Creative Commons Attribution-Share Alike 4.0 License, courtesy of TDF Members from Albania, Brasil, Czech Republic, Germany, Italy, Japan, Nepal, Paraguay, Taiwan, Uganda and Turkey. Stock photos are CC0 by Pixabay.
Lothar Becker, Chairman of TDF Board of Directors, has written in the welcome address:
What we have achieved so far goes beyond the most optimistic forecasts of the project's founders back in 2010. After ten years, the challenge is still to further grow the project by leveraging the contributions of both volunteers and ecosystem members, engage new enthusiastic supporters in both areas, and increase the number of happy users worldwide. Our manifesto, the vision behind all our work, has to evolve in a new era of office productivity, with versions of LibreOffice on the desktop, in the cloud and on mobile devices!
I look forward to another great year for our global community, even with the current challenge of lockdowns in many locations, and the lack of in-person meetings and events because of the pandemic. I'm proud, honored and humbled to be part of this amazing project, and invite you all to keep on contributing to it in one of the many possible ways, and have fun together while achieving our common dream!
No Responses