07 Jan 2018
Starting from today, we launch a weekly blog post focused on marketing topics. We will try to provide ammunition to community members advocating LibreOffice and the Open Document Format, and food for thought to people still trying to understand the viability of FOSS on the desktop.
Let's start with some numbers about LibreOffice.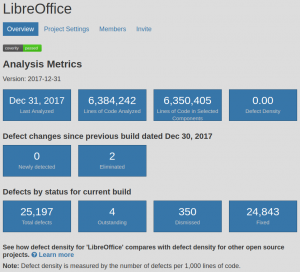 Although LibreOffice defect density score – according to Coverity Scan – has been around 0.00 per 1,000 lines of code for ages, we should never forget that it is the outstanding result of the commitment to quality of LibreOffice developers (and we should always mention it with pride when we present the software).
The bulk of the activity related to Coverity Scan weekly reports is under the responsibility of Red Hat developers, but we cannot forget that the result is related to the quality of the entire development process. Of course, LibreOffice – as any other software – is not immune from bugs and regressions, but improvements with every new version have been acknowledged by both enterprise and individual users.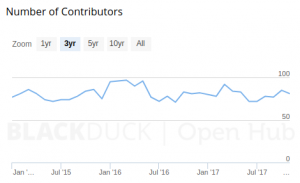 Let's have a look at development numbers provided by OpenHub. During the last 12 months (2017) there have been 15,389 commits by 244 contributors, and during the last 30 days (December 2017) there have been 1,334 commits by 88 contributors. The chart on the left shows that during the last three years the monthly number of contributors has been rather stable, with highs close to 100 and lows close to 75.
After Coverity Scan and OpenHub, which are independent sources, next week we will analyze an internal tool for the analysis of development-related information: TDF Dashboard.
Comments