16 Aug 2016
Getting Started with LibreOffice 5.1, a new book from the community addresses the demand for updated documentation on the software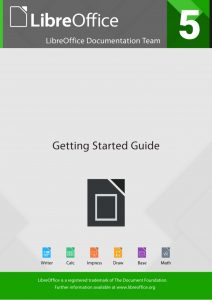 The new manual supports the large number of organizations and individuals deploying LibreOffice "Still" 5.1 to get superior quality and stability
Berlin, August 16, 2016 – Volunteers active in LibreOffice Documentation Project within The Document Foundation announce the availability of the Getting Started Guide for LibreOffice 5.1. The book updates the traditional introductory text with the new features provided by the "still" version of the software, targeted to enterprise deployments and to individual users looking for superior quality and stability.
Updated by members of the community, the book is an effort to fill the gap in official documentation for LibreOffice. The Document Foundation is working hard to reduce the delay between the release of the software and its companion documentation, for a better user experience and a stronger competitive offering.
"Many communities consider the Getting Started Guide as a source for translation into their native language, to create localized textbooks for teaching LibreOffice in all environments, from academia to the enterprise," says Olivier Hallot, documentation coordinator at TDF. "A timely release of these books will send a strong message about the commitment of the community for professional collaterals."
"In addition to the free downloads of the book in PDF and ODT (editable) forms, users can buy printed copies," says Jean Hollis Weber, volunteer writer, editor, and publisher of the official LibreOffice guides. "I've been working with a great group of other documentation volunteers, but we always need more people."
To download or buy copies (from Friends of OpenDocument Inc., an Australia-based volunteer organization with members around the world, which supports the LibreOffice project), visit https://www.libreoffice.org/get-help/documentation.
No Responses