28 Apr 2016
Coming up: the Month of LibreOffice

There's so much fantastic work going on in LibreOffice at the moment, in all areas of the project: development, translations, bug fixing, documentation, user support and much more. The community is doing stellar work to make the software better, faster, more reliable, easier to use, and available for everyone.
In May, we want to really highlight the efforts of everyone involved, so we're going to run a special campaign: the Month of LibreOffice. This campaign will give contributors the opportunity to thank members of the community for their work, by awarding them barnstars like so:
But that's just the start of it! We'll also be awarding badges for contributions to LibreOffice. Every time someone has their code merged, confirms a bug, submits documentation updates, helps users on Ask LibreOffice or just spreads the good word on Twitter, we'll award them a badge: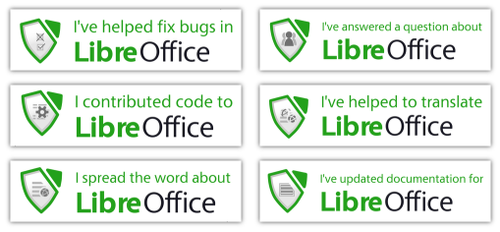 There are multiple badges to collect, and at the end of the campaign we'll see who got the most. Maybe you can get them all!
The Month of LibreOffice will kick off on Monday 2nd May, so stay tuned to this blog for the full announcement and information on how to get involved…
No Responses