11 Mar 2016
TDF and LibreOffice at CeBIT 2016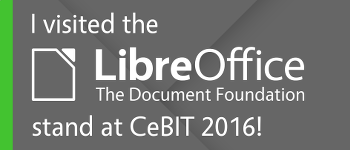 CeBIT, the world's largest computer expo, is just around the corner. CeBIT 2016 will take place as usual at the Messegelände in Hannover, from Monday 14th to Friday 18th of March – and the LibreOffice community will be there. So if you're attending the event, come by and say hello! We will have a stand (D30) in Hall 3, and many of us from The Document Foundation will be present along with other LibreOffice users, developers and supporters.
CeBIT is a great opportunity for us to spread the word about LibreOffice and open document formats. We'll be explaining how the software is developed, talking about what's new in the foundation, and (hopefully) encouraging new developers to get involved with open source projects. With over 300,000 people expected to attend over the week, we'll be very busy.
So we hope to see you there – have a chat, pick up a leaflet, and maybe even buy a T-shirt to support LibreOffice. And when you've talked to us, why not post the image above (large version here) on your Twitter account or blog to let others know that we're here!