23 Feb 2016
LibreOffice 5.1 Videos: Analytics
For LibreOffice 5.1 we created a playlist of short videos highlighting some of the new features in action. At the time of writing, these videos have been viewed over 50,000 times in total. Here's the breakdown:
Calc: 15,346
Impress: 12,275
Writer: 25,229
Let's take the Writer video and look at some of the viewer analytics data behind it. Interestingly, Spain currently provides the most viewers – whereas for the Calc and Impress videos, the USA is in first place. This chart shows the breakdown of the top 10 countries where the Writer video is popular: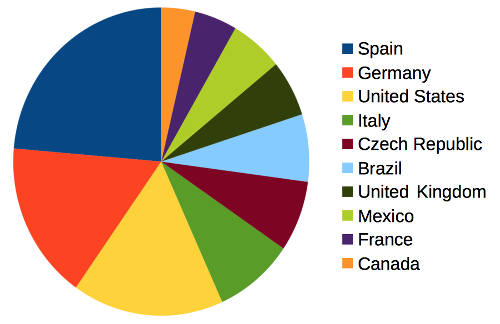 33% of viewers saw the video directly on YouTube, while 67% accessed it via external web pages, such as this Softpedia story which embedded the videos.
Next, let's look at the audience attention rate for the video – in other words, at what point people stopped watching. Many people have argued that YouTube (and the web in general) has reduced our attention spans, but fortunately the majority make it to the end of the video in this case. Here we see the percentage still watching down the left of the chart, and the number of seconds expired along the bottom (the video is 68 seconds long). So around 57% are still watching by the very end: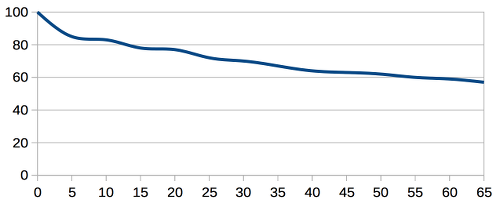 97% of viewers are male, a figure that's not wholly surprisingly given that the computing world is still largely male-dominated. Hopefully some of the efforts to encourage more female participation in open source will lead to a better balance over time. This chart shows the percentages of age ranges that watched the Writer video: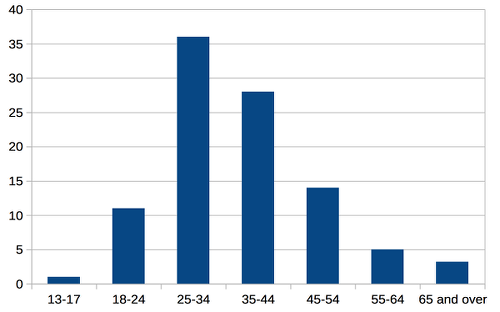 Finally, let's look at the devices and operating systems that viewers have been using. Desktop and laptop computers are by far the majority as expected with 80%, but the combination of tablets and smartphones reaches almost 20%. In terms of operating systems, Windows has the lead at 42% but Linux puts in a good show at 31% after the videos were linked to on various open source-oriented sites like Reddit's /r/linux.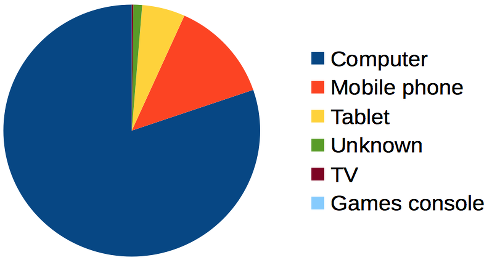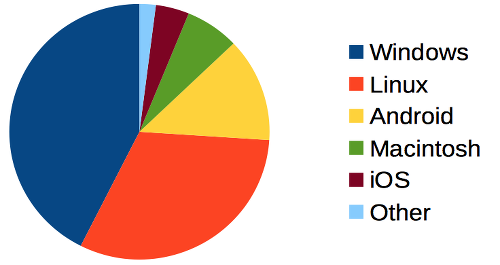 No Responses