22 Sep 2015
LibreOffice merchandising is available from Spreadshirt.Net
The Document Foundation has opened a store for LibreOffice merchandising at Spreadshirt.Net.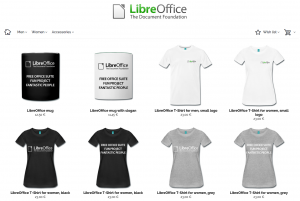 We have a few items at the moment, mostly mugs and t-shirts, but we are open to suggestions and new designs. If you want to contribute, or if you already have a design to suggest, send an email to italo@documentfoundation.org.
The shop is managed by Spreadshirt, which is also responsible for the production of the items, the collection of the payment and the delivery of the items. The Document Foundation will get a small percentage of each item cost, to support the project.
No Responses