17 Mar 2020


In the age of the cloud, most people think they don't have "real" files any more, as these have been replaced by pointers in an online system. They don't realise they have lost their freedom until they download the file to edit it on their laptop. At that point, they realize that without buying a proprietary office suite they are unable to access their very own contents, as these are hostage of a proprietary file format. Something that wouln't have happened if they had chosen the standard Open Document Format (ODF), which can be fully implemented by any software vendor without special permission, and without having to reverse engineer an obfuscated pseudo-standard format owned by a single company.
Back in 2012, European Commission Vice President Neelie Kroes said: "Open standards create competition, lead to innovation, and save money," while announcing the publication of a new policy to help public authorities avoid dependence on a single ICT supplier. At the time, following the recommendations of the new approach against lock-in could save the EU's public sector more than € 1.1 billion a year.
Working with open standards – rather than specifying a single ICT brand, tool, system, or product – when procuring ICT systems could save taxpayers' money. However, many organisations were either lacking the expertise to decide which standards are relevant to their ICT needs, or fearing that the initial costs of change would be too costly and might lead to loss of data. As a result, after eight years they still remain locked into their ICT systems or into a relationship with only one provider. How much are we globally losing – in term of end user or taxpayer money – by sticking to the insane decision of using proprietary or pseudo-standard document formats?
Open Document Format is a well designed and flexible open document standard format to store information in a future proof and portable way. Probably its best feature for regular users is that they won't really notice they are using it, as things just work as expected independently from the specific product used to create the original document. Contents are preserved, and the document has the same visual look even when accessed with a different software running on a different operating system, as with ODF the way you store documents is not related to the software you work with. ODF files are platform independent and do not rely on any specific piece of software whatsoever.
Open Document Format does have a number of obvious advantages which make it unique:
ODF documents are smaller in size than their legacy and proprietary equivalents, because they are structurally simpler, and as such are more robust
Content as well as media objects (images, movies, etc) are directly accessible and easy to work with from outside the office application, even for non technical users
The simple XML syntax is human readable and easy to understand, and this allows to easily recover documents by unzipping the file and access the content directly
ODF is more secure, as the light-weight structure makes it easier than ever to enforce even the strictest security policies
ODF reuses a large number of existing standards whereever possible, and this makes the standard smaller, more robust, easier and cheaper to implement and support
Smart technical users can easily add machine processable data to the content of the document, to create "smart documents" with can be populated automatically
The well-defined and concise OpenFormula standard for spreadsheet formulas gets rid of legacy bugs known to spreadsheets, including the 43 year old leap year bug
Key benefits for enterprises and government bodies include:
ODF is an open and durable standard, and as such can ensure that a document saved today will not be technologically locked or abandoned tomorrow, and it will be always possible to access contents independently from any vendors' commercial strategies
ODF keeps contents (information) separated from the application used to develop it, so that any document can be processed by any applications seamlessly and with fidelity, without interference of any proprietary code or any other restrictions
Because ODF is a truly open standard, it levels the playing field for multiple software providers to compete on functionality and price, and provides greater choice due to competition among vendors, including both proprietary and open source applications
ODF provides a platform-independent format on which any company can build and distribute new applications and services, while ensuring that documents will remain accessible even after innovations have been added thanks to the base-line open standard
ODF is the only open, XML-based document file format currently on the market that satisfies the basic need of enterprises and governments to access documents of potential historical
significance, created and stored in digital form, not only today but also for future generations
The adoption of ODF is also compelling in the context of emergency situations, to guarantee the possibility of accessing and sharing information essential to the relief efforts without having to worry about the characteristics of the original document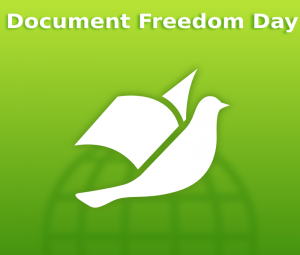 To learn about ODF, you can start from Wikipedia, or read the white paper Open by Design, The Advantages of the OpenDocument Format (ODF), by the OASIS ODF Adoption TC (now replaced by the ODF Advocacy Open Project at OASIS). Here you can find other documents about ODF and its advantages: Open Forum Europe – Dual Standards More Choice or Less, Italo Vignoli – Keep it Open, and a comprehensive slide deck about Open Document Format.
The Cabinet Office of the UK Government, who has decided to adopt ODF as the reference standard for all documents, has published an interesting Policy Paper on Open Standard Principles and a Guidance on Using Open Document Formats (ODF) in your organisation, which provide an interesting point of view about the specific advantages of open standards and ODF for governments.
In a week from now, on March 25, we will celebrate the Document Freedom Day, to educate organizations and users about the importance of adopting an open document standard to get back the full ownership of documents and contents that they have developed, and then have – often unconsciously – left in the hands of a proprietary software vendor. This, independently from the fact that documents are in the cloud or on their local hard disk.
In the next few days, we will publish some images for all of us to share on blog posts and social media on March 25. Stay tuned!
Comments