28 Feb 2019
LibreOffice Asia Conference 2019, Tokyo: Call for Papers is open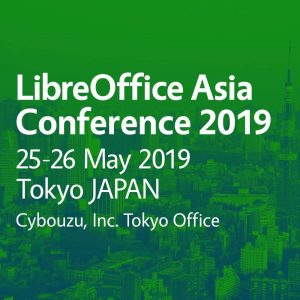 Berlin, February 28, 2019 – Call for Papers for LibreOffice Asia Conference 2019, held at the Nihonbashi Tokyo Tower (at Cyboze, Inc., Tokyo Office) on May 25th (Sat) and 26th (Sun), is now open.
LibreOffice Asia Conference will be the first event gathering LibreOffice users, advocates and contributors (not only development, but also localization, PR/marketing, documentation, quality assurance, … etc.) from different countries in Asia, to exchange and share experiences and knowledge.
During the conference, we will discuss LibreOffice related business such as supporting and training, migrating to LibreOffice and the ODF true standard format, developing, and any other community activity in Asia. In addition, we will have guests from the core team at The Document Foundation, which is a charitable foundation and the home of LibreOffice.
LibreOffice Kaigi, the traditional local event for Japanese speakers, will be held in parallel with the conference. So, there will be an English track and a Japanese track.
Any topic related to LibreOffice and ODF, such as LibreOffice user cases, contribution experiences in different areas, technical analisys of LibreOffice code development, success stories of migrations from proprietary software, or tips and tricks about LibreOffice usage, and so on, are all welcome. All talks will be 25 minutes long, including Q&A.
We are planning to reimburse expenses to accepted speakers, based on TDF reimbursement rules, including:
Flight or bullet train tickets (please note that tickets for local trains will NOT be reimbursed)
Accommodations for two nights in a hotel (please note that luxury hotels will NOT be reimbursed)
Do not hesitate to send your proposals, even if you live far from Tokyo or in another country in Asia.
To submit your talk proposal, please send an e-mail to libo-asia-contact@libreoffice.jp with:
Subject: [CFP] Title of your Talk
Your Name:
Your e-mail address:
Your profile:
Title of the Talk:
Abstract: (around 300 words)
Estimate of expenses to be reimbursed (if you will be asking for reimbursement)
In order to allow everyone to plan in advance their travels and accommodations, the deadline for the call for papers is on March 10th (Sun) 23:59:59 JST (UTC+9).
We will inform all approved speakers by March 22nd (Fri) JST.
Comments